Minmax offers a diverse range of power supply solutions targeting the renewable energy market
Press release
Increasing global awareness on environmental protection is spurring burgeoning developments in the renewable energy sector. According to International Energy Agency (IEA), nearly a third of the Earth's electricity will come from renewables by 2024. Minmax has geared up for market opportunities in this high-growth sector with a portfolio of power supply products and solutions suited to renewable energy applications.
As opposed to other industrial application markets, the renewable energy sector imposes more demanding requirements on power supply modules such as resistance to heat, moisture, dust and other harsh conditions during the operation. It also sets higher safety standards than other industrial application markets. "Power supply units for renewable energy applications demand ultra-high isolation, which is also one characteristic that sets them apart from conventional power supply products," highlighted Whittaker Cheng, Minmax marketing and technical manager.
Featuring ultra-high isolation, Minmax power supply solutions satisfy high-standard requirements
Compared to general industrial power supply modules that come with 1500 VDC isolation, power supply modules for renewable energy applications are required to achieve 3000 VAC isolation.
Minmax takes great pride in its ultra-high isolation power supply solutions. The company's power supply modules designed for renewable energy applications feature reinforced insulation, 5000 VAC isolation and 15kV/μs common-mode transient immunity. They are also able to withstand ripple and noise generated during fast switching of insulated gate bipolar transistors (IGBT).
It should be noted that Minmax has extensive experiences in designing power supply solutions with high isolation, high insulation and heat resistance features. As part of its efforts to expand into the railway power module business more than a decade ago, Minmax has engaged in the R&D of this type of high-standard power supply solutions. "Railway applications actually have even more challenging requirements on power supply spec and features than renewable energy applications. With Minmax's high caliber in designing high-standard power supply solutions that meet the requirements by railway applications, there is no doubt about its capability to produce power supply solutions for the renewable energy sector," indicated Cheng.
For solar power as well as offshore and onshore wind energy applications, Minmax offers a variety of power supply modules for use in control panels, motor drives and energy storage systems. It also provides power supply solutions for additional purposes such as for use in energy saving devices and home power management systems, power conditioning systems and charging piles to accommodate diverse customer needs in their product designs. On top of that, Minmax has introduced chassis & DIN-rail mounting DC-DC converters, allowing quick installation and enabling optimal convenience.
Minmax provides one-stop service with its complete product portfolio
Targeting renewable energy markets abroad for the time being, Minmax has made progress in Europe, the US and China after years of efforts. As to the local Taiwan market, Cheng commented on offshore wind energy development that is catching public attention lately and indicated "Offshore wind energy systems that Taiwan currently need are mostly imported in complete units from Europe so we have yet to see local market opportunities."
Minmax's general product planning strategy is to design standardized solutions for specific application fields. This applies to the renewable energy sector as well. Accordingly, Minmax's power supply solutions can be put to use in renewable energy applications whether it is wind, solar, biogas or nuclear power generation.
A power generation system may need a diverse range of power supply solutions, encompassing high-standard and regular industrial power supply units based on design and cost considerations. Minmax has a complete product lineup that meets customers' needs for both types of solutions, enabling the convenience of one-stop service.
Battery power supply solutions for energy storage needs
Battery power supply solutions are among the five new product lines that Minmax has recently introduced for the renewable energy sector. There are a lot of mid-size and small-size renewable electricity generation systems on the market but the electricity they generate is not distributed on the grid that power companies operate. The systems need to store the electricity in batteries. When power in the battery is supplied to a user's device, the battery's voltage needs to be converted to the one that can be input to the user's device. "For example, the battery's 100V power is converted to 5V before supplies to the handset," explained Cheng. In view of such market opportunities, Minmax has launched solutions exactly for this purpose.
Going forward, aside from staying committed to satisfying common requirements by various types of renewable energy applications on power supply solutions, Minmax will step up efforts in developing products and solutions tailored to respective needs of solar and wind power applications. In doing so, Minmax will further strengthen its efforts toward the renewable energy sector and secure its market presence.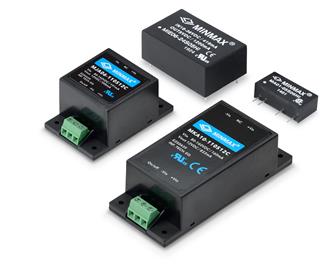 Minmax offers a diverse range of ultra-high isolation power supply modules that meet the requirements by renewable energy systems
DIGITIMES' editorial team was not involved in the creation or production of this content. Companies looking to contribute commercial news or press releases are welcome to contact us.