Taiwan's National Defense Medical Center (NDMC), a military medical university, has cooperated with HTC DeepQ, the smartphone vendor's healthare research unit, to set up a MR-based anatomy lab, according to NDMC president Cha Tai-lung.
P4 (preventive, predicative, participatory, personalized) medicine needs support from high technologies, Cha. MR technology, through combining VR and AR, allows students to learn anatomy in a virtual scenario and interact with real environment, Cha noted. By virtue of dynamic simulation, MR-based anatomical education provides 3D display of organs that can move such as hearts and blood vessels at a microscopic level that fluff of small intestines, chyle ducts, muscle fibers and renal glomeruli are visible.
The MR-based anatomy lab system integrates more than 5,500 human organs, more than 500 sets of physiological animation images and over 15 types of microscopic anatomy diagrams.
NDMC began to use a VR-based education system through cooperation with HTC Deep in 2017, with students' learning featuring immersion, interaction and imagination.
NDMC has procured 20 sets of HTC VIVE Focus and seven sets of HTC VIVE Pro for operation of the anatomy lab.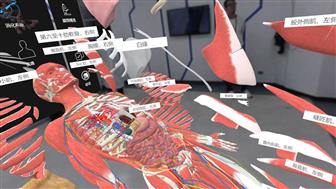 An anatomical display at NDMC's MR-based anatomy lab
Photo: Mark Tsai, Digitimes, December 2019