KKFARM, a startup spun off from KKBOX Group, is engaged in cultivating digital music artists and businesses through venture capital funding and providing marketing solutions based on data and AI analysis for created songs, according to company co-founder and president Kai Huang.
In the past, popular songs could reach the general audiences via TV and radio broadcast as the main last mile, Huang said. In the era of digital music, however, the music market has been segmented into many focus segments, Huang noted. This is because music consumers' behavior has drastically changed, for example, people of young generations have not relied on TV or radio broadcast to listen to music, Huang explained. Consequently, music companies have been increasingly unwilling to cultivate new singers, Huang said.
In the segmented music market, it is relatively difficult to make talented musicians visible and popular, and therefore focus markets featuring musical diversity have become a trend, Huang indicated.
To boost digital music, KKFARM has offered Soundscape, a marketing solution to help publish newly created music on KKBOX, Spotify, Apple Music and other international digital music platforms, Huang said. Soundscape also uses AI- and big data-based algorithm to analyze market response data collected in the three days following the release of a newly created song and thereby predict marketing potential of the song as reference for enhancing marketing or ending publication, Huang noted. The solution is to minimize marketing risks, Huang added.
5G, due to broadband and low latency, will enable integration of music with AR and VR to enhance music consumers' experience, Huang said, adding that 5G can lead to new business models for music such as VR- or cloud computing-based concerts.
KKFARM plays the role of a farm for music cultivation and is unable to decide on what crops to grow but weeds, plows, irrigates and fertilizes in a bid to attract music experts, Huang noted. By virtue of marketing solutions, KKFARM hopes to create an ecosystem for Chinese-language musicians, Huang indicated.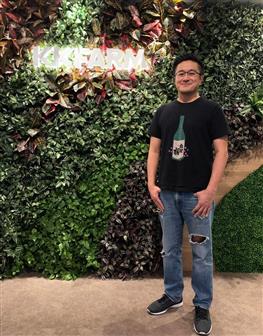 KKFARM co-founder and president Kai Huang
Photo: Vicky Liu, Digitimes, November 2019