ADLINK's data extraction solution enables networking in PCB drilling, connecting isolated legacy equipment
Press release
With the ongoing adoption of Industry 4.0 initiatives, manufacturers are endeavoring to equip their production machinery with network connectivity, providing highly precise, efficient access to machine status in real time, for the comprehensive analysis critical to data-driven decision making.
A major challenge is the lack of universal network connectivity among automation machines, especially in legacy systems that are still in production use. These systems, along with important data regarding their function and performance, are vital business assets, essential for migration to smart manufacturing. In addition to their unconnected status, such elements are complicated to maintain. Affordable, easily adopted methods of implementing complete connectivity are, accordingly, of paramount importance to operators of systems comprising the legacy devices.
A printed circuit board (PCB) producer in China found itself facing this very dilemma, with its efforts to embrace full connectivity hindered by the presence in the system of numerous legacy PC-based PCB drilling machines with no networking capability. With the inability to acquire data from these devices seriously hindering migration to smart manufacturing, the operator chose ADLINK's DEX data extraction and network connectivity solution to circumvent the obstacles in the smartest manner possible.
The ideal data extraction solution brings legacy machines onboard for painless transition to Industry 4.0
The inability to extract data from the legacy PCB drilling machines has been a major obstacle to the manufacturer's achieving the Industry 4.0 standard. After examining several potential solutions, the manufacturer finally selected ADLINK's DEX-100.
Outdated OS renders legacy production machines data islands
In the PCB manufacturing environment, a number of unconnectable PCB drilling machines, still operating through PC-based controllers, exist as data islands, unconnected from one another and functioning in isolation. Data extraction from the individual machines is difficult, and integration among the devices basically impossible.
One major cause is that the legacy drilling machines still run OS2, for which end-of-sale and end-of-life were announced in 2005, with no available resource for obtaining the source code. Furthermore, the machine supplier did not implement Open API, preventing consolidation of drilling device data.
DEX, the most cost-effective path to smart manufacturing
The DEX-100 performs optical character recognition (OCR) upon VGA/DPI display output from a legacy device, with the result converted to digital data. DEX-100 performance is unaffected by limitation of OS platforms or versions, requiring no Ethernet connection port or the requirement to recognize convoluted log files. Circumventing these barriers, the DEX-100 gathers machine status data with ease.
As well as solving the network connectivity issue, DEX-100, when connected to a barcode scanner, can retrieve the serial number of the required drilling recipe, retrieve the corresponding recipe from the recipe management server and upload the serial number to the manufacturing execution system (MES), which sends the correct recipe to the DEX-100 for input to the device. Thus drilling is always executed according to the correct recipe, eliminating errors caused by manual input.
To operators pursuing system connectivity, upgrading to Industry 4.0 while keeping costs to a minimum is an ongoing struggle. By extracting machine data from display content, ADLINK's DEX-100 ingeniously connects legacy systems, giving them a new life and enabling them to function fully in process automation and machine monitoring.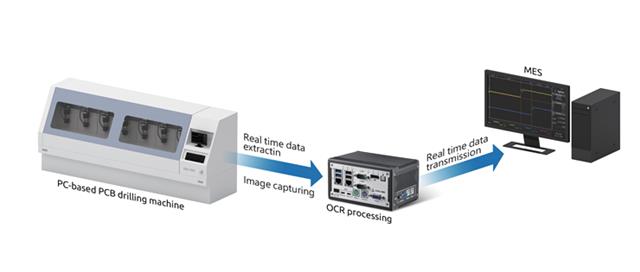 ADLINK's DEX data extraction and network connectivity solution to circumvent the obstacles in the smartest manner possible
DIGITIMES' editorial team was not involved in the creation or production of this content. Companies looking to contribute commercial news or press releases are welcome to contact us.