Aeroponics developer Airtree has won an innovation award at Meet Accel, a selection of startup businesses held jointly by Taiwan's innovation social platform Meet Startup and New York-based accelerator Lair East Labs.
Airtree will now go to Lair East Labs' accelerator in New York. It plans to set up a base in the US to grow vegetables for local supply.
Airtree said it uses vertical aeroponic growers to cultivate vegetables. Seedlings of vegetables wrapped in sponge are separately put in holes of the aeroponic growers and tubes inside the growers spray nutrient solution to roots of vegetables, Airtree noted. Nutrient solution is formulated in terms of proportions of nitrogen, phosphor and potassium depending on variety of vegetables, Airtree indicated.
While hydroponics entails high cost for controlling water temperatures, aeroponics requires only drafty air and is less affected by environmental temperatures, Airtree said. Since aeroponic vegetables are separately grown, it is easy to avoid spread of pests by removing only vegetables that suffer pests.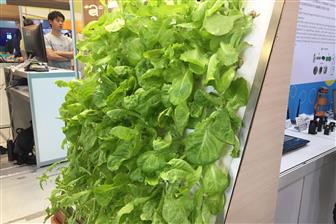 A vertical aeroponic grower
Photo: Yihan Li, Digitimes, November 2018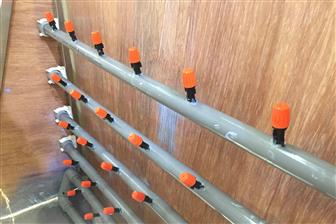 Tubes spray nutrient solution inside aeroponic growers
Photo: Yihan Li, Digitimes, November 2018