Largan nets NT$133.83 EPS for January-September
Sammi Huang, Taipei; Adam Hwang, DIGITIMES
Smartphone-use lens module maker Largan Precision has reported net EPS of NT$133.38 (US$4.35) for January-September.
Of its third-quarter 2019 consolidated revenues, 20-megapixel and above lens modules accounted for 10-20%; 10- to below 20-megapixel, 60-70%; 8- to below 10-megapixel, 10-20%; and below 8-megapixel, 10-20%.
While production capacity utilization will remain full in October, shipments will slightly decrease sequentially in October and drop further in November, judging from order visibility, company CEO Lin En-ping said at a recent investors conference.
Largan has begun shipments to new clients based in South Korea, Lin noted.
If the aperture is enlarged but resolution and zoom need to remain unchanged or become higher, it will be necessary to increase the number of lens pieces used in a single lens, add extra lenses, or do both, Lin explained. Some clients have adopted triple-lens solutions (dual-lens for a rear camera and single-lens for a front camera), with one or even two lenses each consisting seven plastic lens pieces, for new flagship smartphone models, Lin indicated.
In addition, ToF (time of flight) technology is likely to replace structured light technology in front cameras' 3D sensing for facial recognition, and Largan may develop transmitters and receivers of front lens modules if ToF solutions are adopted , Lin noted.
Largan expects orders not to be affected by the US-China trade war and is expanding production capacity as scheduled, Lin said. Largan currently focuses on smartphone-use lens modules and is not keen on developing lens modules for automotive cameras, Lin indicated.
Largan Precision: Financial results, 3Q18 (NT$b)

3Q18

Q/Q

Y/Y

Jan-Sep 2018

Y/Y

Consolidated revenues

16.334

32.84%

9.49%

37.507

1.26%

Gross margin

71.34%

2.73pp

3.40pp

68.55%

0.18pp

Net operating profit

10.218

40.01%

16.23%

22.204

0.73%

Net profit

8.371

52.18%

7.74%

17.892

3.01%

Net EPS (NT$)

62.41

133.38
Source: Company, compiled by Digitimes, October 2018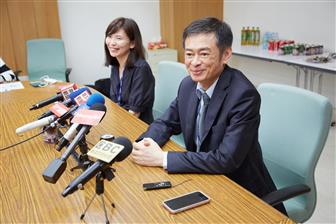 Largan Precision CEO Lin En-ping
Photo: Digitimes file photo