New ITRI president takes office
Siu Han, Taipei; Adam Hwang, DIGITIMES
Tuesday 17 April 2018
Government-sponsored Industrial Technology Research Institute (ITRI) on April 16 held an inaugural ceremony for new president Edwin Liu.
ITRI chairman Lee Chih-kung, speaking at the ceremony, said that ITRI has played a vital role in promoting Taiwan's economic growth for 45 years, and Liu has expertise in big data, smart power grids and Internet domain monitoring, over 30 years of experience in technology management and cooperation with industries, academic and research organizations as well as good international connection.
As development of digital technology is heading toward interdisciplinary fusion of AI (artificial intelligence) and big data, Liu is expected to leverage ITRI's R&D strengths to help upgrade Taiwan's industries and create new opportunities for Taiwan, Lee noted.
ITRI's innovative R&D capability has gained global presence and ITRI has become an important R&D partner for many international enterprises, Liu said. In addition, ITRI has been active in boosting development of emerging industries and commercialization of R&D results, Liu noted, adding he will lead ITRI to maintain its advantages in interdisciplinary innovation and R&D.
There are three important directions for ITRI's development, Liu said. First, ITRI's R&D work should be oriented to market demand and based on analysis of political, economic, socio-cultural and technological factors to identify "blue-ocean" strategies. Second, ITRI will function as an effective bridge between industries and academic/research organizations as well as between Taiwan's R&D and international advanced research to seek business opportunities for R&D results. Third, ITRI will be a platform for integrating technologies to promote transformation of industries and interdisciplinary cooperation.
Liu received a PhD in electric engineering and computer sciences from the University of California, Berkeley and was Smart Grid & Grid Management senior vice president for US-based Nexant before joining ITRI.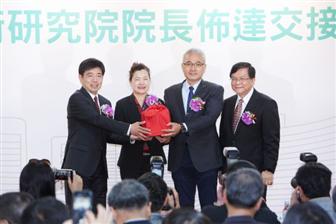 New ITRI president Edwin Liu (left) at his inaugural ceremony
Photo: Michael Lee, Digitimes, April 2018