Macronix ramps up efforts to gain market share in embedded non-volatile memory
Press release
Prices of memory chips, including dynamic random-access memory (DRAM) and all types of flash memory, have rallied throughout 2017, buoying the business value of five of the top 10 semiconductor companies that design and manufacture chips. American and Korean players have long dominated the memory market and none of them is willing to start a price war. Accordingly, memory prices will likely continue to trend upward as the 2018 market outlook remains positive.
The memory industry is characterized by boom and bust cycles resulting from the tug of war between market demand and production capacity. Aside from DRAM and 3D NAND, which require advanced fabrication facilities, industry players are no longer so readily building new semiconductor plants, but are instead offering combinations of different memory products to strike a delicate demand-supply balance.
Amid the memory industry's explosive growth, Martin Lin, director, marketing center, Macronix, a Taiwan-based company specializing in the design and manufacture of non-volatile memory, recently gave a look into the flash memory market's recent turbulent changes and what its future holds.
Widening gap between non-volatile memory supply and demand
The supply of non-volatile memory is experiencing significant changes. According to Lin, "Surging market demand is no doubt one of the factors that drives up memory costs. However, supply shortages play an even more influential role."
Most flash memory manufacturers shy away from investing in new plants because construction of a 12-inch wafer fab costs at least NT$100 billion. Manufacturers will only consider investments in new plants for popular memory chips used in solid state drives (SSD) and smartphones, which can create a market value of more than US$50 billion per year and not for low-density memory, which accounts for a less than 5 percent share of the market value.
Furthermore, the introduction of the first iPhone in 2007 completely changed the consumer electronics industry. Smartphones, with their widespread availability, have replaced once-popular electronics such as digital cameras, MP3 players, handheld game consoles and personal video players. Lin pointed out that excess supply of NOR flash reached a new high in 2013, causing memory prices to crash. Leading suppliers therefore chose to exit the low-density memory market and shifted focus to mainstream products such as 3D NAND flash.
The world now has fewer than five remaining fab plants capable of producing low-density flash memory. What's worse is that manufacturers that used to be able to switch production between 2D NAND and DRAM no longer have this flexibility as they gradually upgrade equipment to 3D NAND production. As a result, the production capacity of flash memory can no longer return to previous levels. Supply has begun to lag behind demand and prices have been on the rise since 2016.
Innovative applications revitalize opportunities for low-density flash memory
Lin then talked about demand-side changes. After years of development, IoT applications began to flourish in late 2016 with a plethora of never-before-seen uses growing rapidly, and driven by smart city and smart home trends. These emerging applications using low-density flash memory (SLC NAND and NOR Flash) are throwing supply and demand further off balance. For example, shared bikes use low- to mid-density NOR flash for GPS positioning. Home appliances including refrigerators, washing machines, air conditioners and even vacuum cleaners and coffee makers are starting to come with IoT communication modules. In addition, new-generation smartphone displays such as AMOLED panels and SiP solutions (MCU+KGD), which replace embedded flash memory in MCU, both call for an extra supply of flash memory.
An interesting example of application is the new smart electronic cigarette, which needs memory in order to work closely with a smartphone to gather data and keep track of the user's smoking habits. Around 10 million smart electronic cigarettes have been shipped in 2017 and 25 million units are expected in 2018 according to customer forecasts. The much sought-after smart speakers also use a large amount of SLC flash in low-end and mid-range models. As such, Lin expects low-density flash memory will continue to be in short supply through 2018.
Quality sets Macronix apart from competition
The world is closely watching the rise of China's semiconductor supply chain. Although China is building semiconductor plants on a large scale, product quality cannot be established overnight. Lin notes that Macronix is committed to perfecting its product quality and focused on serving the needs of international brands known for providing premium quality products and cutting edge applications. Macronix has landed orders from iconic world-class customers across sectors encompassing automotive electronics, telecommunication equipment, enterprise-level network systems, factory automation and smart healthcare thanks to the outstanding Macronix brand image built through solid product quality. It is able to fully leverage its brand advantage and stand strong against China's rising supply chain as vendors engaging in price wars pose no threat to Macronix.
Looking ahead to future developments in the coming years, the market will continue to face a supply shortage in low-density memory and will not be able to fill the gap in the near term. In response to this, Macronix will enhance its customer service and satisfy customer needs with its production capacity. It will also step up efforts in the automotive memory market with a goal of taking a 50 percent market share.
However, first and foremost, Macronix will strive to perfect production quality. With over two decades of refinement in production quality and capacity, Macronix has built a management system for quality control flows that include quick problem identification, reliable error detection and instant troubleshooting using internally-developed systems and analysis approaches. Quality control statistics gathered from shipments to European, American and Japanese customers over the years show that Macronix's quality has improved from being measured in parts per million (PPM) to parts per billion (PPB) in 2017. This will further help Macronix establish leadership in the automotive memory market.
Lin emphasized that a growing number of electronics are being used in automobiles, such as advanced driver assist systems (ADAS), telematics systems and Internet of Vehicles (IoV) devices. In addition to high-density NOR flash that is already widely used, adoption of SLC NAND flash is increasingly common as well. Macronix is the world's first supplier capable of providing fully AEC-Q100-compliant SLC NAND flash for automotive use and is shipping such products to major tier-1 automotive electronics suppliers around the world. Further growth is expected for 2018 and beyond with new cars coming on the market.
Professional non-volatile memory provider offers a complete product lineup and one-stop service
Macronix has enjoyed soaring growth in 2017 with total revenues to top US$1 billion and expects future revenues to further ramp up with contributions from automotive electronics, factory automation and emerging embedded applications continuingly setting new records. Currently holding the largest market share of NOR flash and ROM and the third largest market share of SLC NAND flash commonly used in embedded systems, Macronix will have its new eMMC line ready for volume shipments in 2018. Meeting the needs of mainstream applications such as embedded systems, Macronix eMMC is poised to become an important product line in 2019 and open up additional business opportunities for the company.
In terms of capacity expansion plans, Macronix looks to upgrade the production of low- and mid-density NOR flash to advanced fab process so as to boost output per wafer, which can raise capacity by 20 to 30 percent. Research and development on the next generation 48nm node is also close to completion.
Macronix currently produces SLC NAND flash using 3x nm technologies, which accounts for 15 to 20 percent of the SLC NAND flash market. Its share of the global SLC NAND flash market will likely exceed 30 percent within the next few years as it advances to 1x nm process. With capacity expansion projects falling into place, coupled with agile planning in market differentiation and product applications, Macronix can maintain a level of price stability and demonstrate optimal brand value. This will enable Macronix to help customers maximize business success as it takes advantage of industry reshuffle and rises to the top.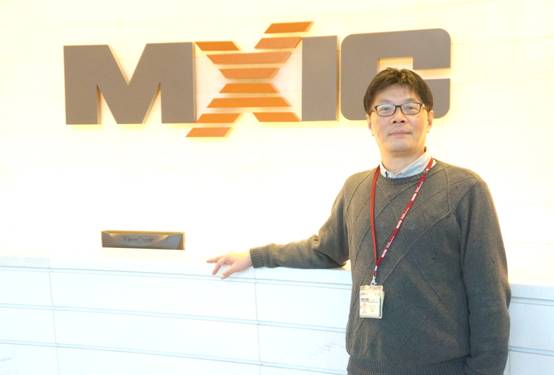 Martin Lin, director of marketing center, Macronix.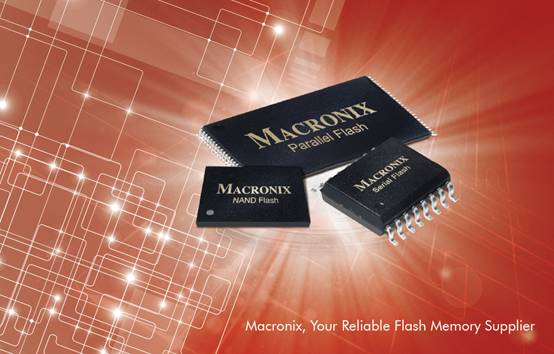 Macronix ramps up efforts to gain market share in embedded non-volatile memory.
DIGITIMES' editorial team was not involved in the creation or production of this content. Companies looking to contribute commercial news or press releases are welcome to contact us.