EtherCAT helps boost production capacity of lithium-ion automotive batteries
Sponsored content
Since SONY introduced the 18650 cylindrical lithium-ion battery in 1992, kick-starting the commercialization of lithium-ion batteries, the technology has been advancing with applications becoming more and more widespread, ranging from consumer electronics to electric cars and solar panels. Among these, electric cars are considered a high growth market for lithium-ion batteries.
The promising outlook for lithium-ion automotive batteries has also spurred booming opportunities for related equipment. The market is expected to show more than 20% CAGR over the next few years, attracting numerous vendors to scramble for a share of the market. There are increasingly intense competitions throughout the front-end (electrode), mid-tier (battery cell) and back-end (packaging and testing) segments. To set themselves apart from their rivals, makers of equipment for lithium-ion batteries used in electric cars are all looking to raise production capacity and reduce costs and therefore are growingly evaluating and adopting EtherCAT. This has given rise to the popularity of EtherCAT, which enables multiple advantages including motion control with optimal compatibility and precise synchronization.
Equipment for making lithium-ion batteries used in electric cars is generally of immense scale. Mixers, coaters, roller presses and flaking mills used during pre-process and electrode sheet laminators used during mid-process all include a massive number of axes and I/O points. As such, using a high-performance automation control system to allow as many axes and I/O points as possible to work in synchronization is critical to raising operation efficiency. However, traditional control technologies such as MNET and HSL use the RS485 communication protocol with less-than-optimal transmission efficiency so signal exchanges between axes take longer cycles during distributed motion control operations. This results in difficulty in achieving synchronization and therefore most processes can only work on a single-action basis, which falls short of vendor expectation to boost production capacity.
A combination of compatible master and slave equipment delivers high CP value
Drawing on his experience in corresponding with a battery equipment supplier to electric car makers Tesla and BYD, Chia-Wei Yang, market development manager, automation business center, ADLINK, said the supplier has realized in order to increase equipment efficiency and thereby help lithium-ion battery making customers raise production yield, motion control has to advance from "single action" to "synchronous action" with the more co-moving axes the better. Accordingly, seeing that new generation motion control and I/O control technologies are necessary to achieve such purpose, the supplier evaluated several solutions including PROFINET, EtherNet/IP and EtherCAT and finally selected EtherCAT.
The supplier made the choice mainly because EtherCAT can help increase production yield and also provide the additional benefit of cost saving.
EtherCAT Technology Group now has over 4,500 members worldwide producing an accumulative total of more than 800 EtherCAT-enabled products. With the consortium of vendors joining forces to support the development of the open standard platform, in theory, the technology has great potential as long as suppliers of EtherCAT masters put in R&D efforts to make corresponding drivers available to EtherCAT slaves that are widely used on the market and ensure they pass stringent certification to guarantee compatibility between masters and slaves of different brands.
The supplier tested the compatibility between six servomotors that its own equipment could support and several different brands of EtherCAT master controllers and found ADLINK's Talos series can work with all six servomotors without any problem. This means the supplier will no longer be limited to a single brand of motor and can freely choose the motor with the best cost performance value without changing software programs to maintain maximum cost-effectiveness.
Synchronous motion across modules becomes a reality
In fact, besides hardware, software development efficiency also decides system costs. The supplier was using ADLINK's RS485-based control solutions as well as ADLINK's APS Function Library to accelerate development cycle because of the reusability of existing software programs. As such, when the supplier made the decision to upgrade from legacy systems to EtherCAT, it chose ADLINK's EtherCAT solution for an expedited transition (it would be necessary to rewrite software programs for EtherCAT masters of other vendors). A seamless upgrade was completed in two weeks thanks to the use of existing APS Function Library.
Yang added if non-APS users are to adopt ADLINK's EtherCAT solution, it will be necessary to re-develop software. However, ADLINK will offer sample code and assign engineers to provide necessary assistance to help customers smooth out any bumps during the transition and accelerate the process.
The above-mentioned automotive battery equipment supplier is now able to fill in gaps between its supply and demand that has long been put on hold. The process originally supporting only simple synchronous action has entered a new era of multi-axis synchronous action. High efficiency of up to eight axes moving in synchronization can now be achieved. Furthermore, old hardware module architecture prohibits cross-module synchronous action so some process steps have to be divided into several actions. It takes time for the process flow to transition from one action to the next. Now with EtherCAT, a single Ethernet cable can connect all pieces of slave equipment, overcoming module barriers and easily combining multiple actions into one with cross-module synchronization.
Multi-axis and cross-module synchronous action has enabled giant leaps in productivity. The electric car battery equipment supplier has seen a 20%-30% upsurge in production yield and a 15% reduction in production costs, enjoying the benefit from a significant boost in its competitiveness.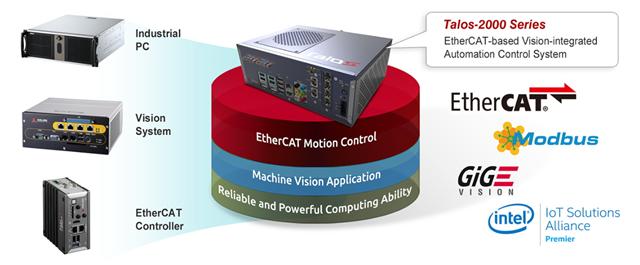 Now with EtherCAT, a single Ethernet cable can connect all pieces of slave equipment, overcoming module barriers and easily combining multiple actions into one with cross-module synchronization.
DIGITIMES' editorial team was not involved in the creation or production of this content. Companies looking to contribute commercial news or press releases are welcome to contact us.