Indium Corporation launches new halogen-free, ultra-low voiding Indium10.1HF Solder Paste
Press release
Indium Corporation has launched Indium10.1HF Solder Paste, a new solder paste specifically formulated to achieve ultra-low voiding in bottom termination component (BTC) assemblies and improve reliability by minimizing voiding and maximizing ECM and head-in-pillow performance.
Indium10.1HF is an air reflow, no-clean, halogen-free, Pb-free solder paste with a flux chemistry engineered to improve reliability with:
- High ECM performance under low standoff components, RF shields without proper ventilation, and components in low-clearance cavities
- Solder beading minimization
- Very low bridging, slump, and solder balling
- Excellent wetting to a variety of common fresh and aged metallizations and surface finishes
- High print transfer efficiency with low variation
Indium10.1HF is compatible with lead-free alloys such as SnAgCu, SnAg, and other alloy systems favored by the electronics industry. This solder paste is halogen-free per IEC 61249-2-21, test method EN 14582.
For more information about Indium10.1HF Solder Paste, visit www.indium.com/indium10.1HF.
For more information about Indium Corporation, visit www.indium.com.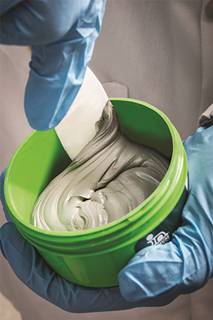 Indium Corporation launches new halogen-free, ultra-low voiding Indium10.1HF solder paste
DIGITIMES' editorial team was not involved in the creation or production of this content. Companies looking to contribute commercial news or press releases are welcome to contact us.