TUV NORD calls upon vendors to prepare for growing importance of Automotive SPICE
Sponsored content
Electronic systems account for an increasing share of automotive parts and therefore software plays a growingly important role in car safety and performance. To ensure the quality of software development, Automotive SPICE (Software Process Improvement and Capability dEtermination) jointly developed by German automakers, dubbed A-SPICE, has gradually become a common standard followed by automobile manufacturers worldwide.
Kevin Huang, Greater China Functional Safety Product Manager, TUV NORD, commented the newly published draft version of the automotive industry's widely-used standard IATF 16949 required suppliers to provide capability assessment reports based on A-SPICE when they develop software. Although the requirement is not included in the final official version, this is still an indication that the automotive industry regards software quality requirement a must and it is only a matter of time before such requirement is officially added to standards.
Furthermore, the automotive industry is gradually turning to A-SPICE in place of the CMMI assessment model, which has been in use by the software industry for a long time. For example, a well-known CMMI level 3 certified auto parts supplier was recently required by its customers to rebuild its development process following the A-SPICE standard.
"The said two instances resulted in an increasing number of inquiries by Taiwan-based vendors regarding A-SPICE since 2016. TUV NORD already has experiences in helping Taiwan-based businesses build up A-SPICE compliant projects, including semiconductor makers and ODM companies," indicated Huang. "When automakers approach suppliers in Taiwan, they will definitely require suppliers to improve their processes as a prerequisite for entrance into the supply chain. This is the direction where the whole automotive industry is headed. Vendors hoping for a share of the automotive electronics market with a high technological barrier must be willing to devote resources to build up a competitive edge. We are seeing quite a number of Taiwan-based vendors aggressively expanding into this field."
TUV NORD collaborates with German consulting firm Method Park to provide training and implementation services in regard to the A-SPICE standard for the Taiwan market. Sunil Kumar, Director Asia, Expert Consultant, Method Park Consulting GmbH and a Principal A-SPICE Assessor and Instructor, he also represents Japan, China, India and Korea in intacs, pointed out almost all of German automakers are using A-SPICE to assess supplier capability in software development since the standard was first established by German automakers in 2005. Industries in Japan, China, Korea and the U.S. are also attaching growing importance to A-SPICE, making it a worldwide standard.
Similar to CMMI, A-SPICE assesses capability and defines five capability levels??L1 to L5. Currently automotive manufacturers' requirements on individual projects mainly focus on L2 (managed process) and L3 (established process). What distinguishes A-SPICE from CMMI is that A-SPICE imposes meticulous requirements on software/system, System requirements, system architecture design, software requirements, software architecture, detailed design, coding, five different level of testing, integrity, certification, and even the processes of project management, configuration management and quality assurance. The CMMI model, on the other hand, focuses more on defining high-level engineering processes.
Kumar indicated CMMI has more room for self-interpretation so automakers tend to opt for A-SPICE with stringent requirements on process details. In addition, intacs, the organization in charge of A-SPICE management, specifically divides its operations into three independent units respectively overseeing standard setting, training and assessment for the purpose of ensuring impartial certification results. A-SPICE now has set standards for 32 processes, 11 of which are related to engineering and the remaining include management, supporting and other processes.
Different customers have different requirements on the processes. For example, BMW, Volkswagen and Audi demand that their suppliers comply with the standard for 16 processes (HIS Scope) while Volvo, Ford and Jaguar mandate compliance for 21 processes (HIS Extending). Automakers can have more flexibility in how to evaluate supplier capability based on their project requirements. Moreover, as automotive electronic systems comprise more than software, the standard also offer plug in concept to incorporate requirements on hardware and mechanical engineering development processes in the future to further guarantee quality.
TUV NORD and Method Park provide complete A-SPICE services including training, difference analysis, consultation and support for process implementation, pre-assessment and final assessment. Huang commented with the automotive industry's rapid development, the ISO 26262 functional safety standard is also another important criterion in addition to A-SPICE for vendors that want to expand into the automotive electronics market. As a more practical and efficient approach, vendors should start with implementing A-SPICE compliant processes and proceed to ISO 26262 on the A-SPICE basis, suggested Huang.
Huang emphasized one major advantage of TUV NORD is its hands-on experiences gained from serving customers around the globe. In particular, TUV NORD is well aware of the different requirements by different automakers and therefore is capable of providing the type of integrated certification services that vendors need to expedite their penetration into the automotive electronics market.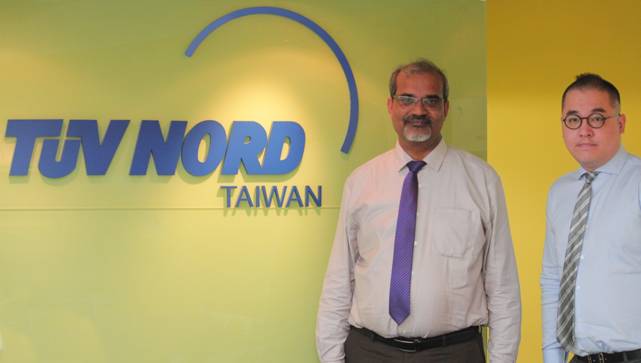 Sunil Kumar, Director Asia, Expert Consultant, Method Park (left) and Kevin Huang, Greater China Functional Safety Product Manager, TUV NORD (right)