PALWONN/ABONTOUCH's AbonMax series touch panel took challenges against Microsoft Surface Hub and Google Jamboard
Press release
The interactive white board (IWB) market in APAC region is expected to grow at a CAGR of approximately 20 percent during the forecast period. On the basis of end–users, the market is segmented into education sector, business sector and others. Among end–users, education sector is the most dominant segment mainly driven by low price of IWB and its benefits to students in teaching applications. Reported by Digital Journal on Oct 20 2016. Another news reported by Washington post on Nov 10 2016, Microsoft and Google have both gotten into the IWB market this year. These two potential players are creating new competition for the large-size IWBs.
PALWONN/ABONTOUCH (ABONTOUCH is PALLWONN's subsidiary) had joined in the highly competitive market by introducing AbonMax serial touch display in 2016 Computex Taipei. AbonMax serial touch display was segmented into 65" and 55" product models. On the basis of hardware, the end-user can choose optional PC, Camera, audio conference system, etc. Or, just purchase touch display to pair with personal PC/laptop for use. In regarding to software configuration, AbonMax series touch display were designed to be operated under WINDOWS 10 or MAC OS system, pairing with the PC enhanced its greatest advantage.
As from technical point of view, AbonMax serial touch display uses projected capacitive touch panel technology (PACP) which is major trend of touch technology in consumer market currently. PALWONN/ABONTOUCH continued to invest not only on R&D resources but also on the design approach of ITO materials for overcoming ITO's high impedance characteristic since 2011. The optimized projected capacitive touch application design using ITO materials was successfully developed for achieving not only uniform signal but also moving toward larger size touch panel.
The hardware configuration based AbonMax serial touch display also provided numerous advantages from cost perspective. End-user has to paid USD8,999/USD21,999 for purchasing 55"/84" MS Surface Hub, USD 6,000 for 55" Google Jamboard. Despite of above competitors, It only costs less than USD 6,000 to deploy an PALWONN/ABONTOUCH IWB system including a small-form-factor computer, 1080p wide angle camera, audio conference system and a stand which can support the device standing on floor. AbonMax touch display provided HDMI, VGA and DVI interfaces and USB interfaces for touch panel's connection.
As from software application point of view, AbonMax serial touch display has great flexibility since the system is based on WIN10 or MAC OS. AbonMax devices are compatible with APPs in App store. The most used APPs are IWB for education system and conferencing system for business. Various of APP providers have released ready-to-go solutions for both applications already. End-users will enjoy a joyful user experience. Google Jamboard was designed based on Android system. Its memory size is also relatively smaller than the others due to most of memory was linked to cloud memory.
PALWONN/ABONTOUCH announced the mass production of 55-inch / 65 inch large-size PCAP touch display which was produced by specially-customized production line in 2016 Taipei COMPUTEX. Furthermore, PALWONN/ABONTOUCH is looking forward completing 84-inch touch panel product design in 2017. Such a large-size touch panel products is going to go into everyone's daily life. In addition, PALWONN/ABONTOUCH will attend 2017 CES held in Las Vegas USA and EmbeddedWorld exhibition held in March 2017 at Nuremberg Germany. Interested customers and manufacturers are sincerely welcomed to visit PALWONN/ABONTOUCH in both exhibitions. Despite of Microsoft Surface Hub and Google Jamboard, PALWONN/ABONTOUCH provided another cost-competitive PCAP IWB to end-users.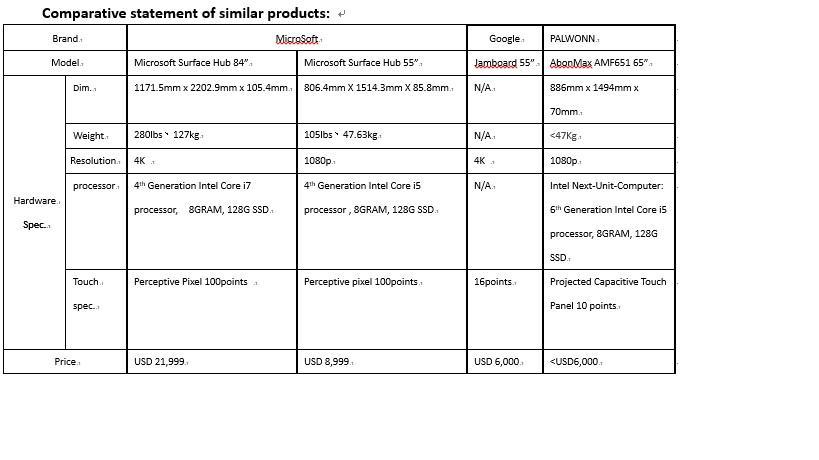 Comparative statement of similar product
DIGITIMES' editorial team was not involved in the creation or production of this content. Companies looking to contribute commercial news or press releases are welcome to contact us.