Apple has introduced the iPhone 7 and iPhone 7 Plus. The iPhone 7 series is the first water and dust resistant iPhone. The iPhone 7 and iPhone 7 Plus will be available in more than 25 countries beginning September 16.
The iPhone 7 features a 12-megapixel camera with a f/1.8 aperture and 6-element lens. The iPhone 7 Plus features the same 12-megapixel wide angle camera as iPhone 7 and adds a 12-megapixel telephoto camera that together offer optical zoom at two times and up to 10 times digital zoom for photos.
Coming later in 2016, the dual 12-megapixel cameras also enable a new depth-of-field effect, using both cameras on iPhone 7 Plus to capture images, while technology including Machine Learning separates the background from the foreground.
The camera systems also feature new Apple-designed image signal processor, which processes over 100 billion operations on a single photo in as little as 25 milliseconds, new 7-megapixel FaceTime HD camera, advanced pixel technology and auto image stabilization; and new Quad-LED True Tone flash that is 50% brighter than iPhone 6s including a sensor that detects the flickering in lights and compensates for it in videos and photos, according to Apple.
The new custom-designed Apple A10 Fusion chip features a new architecture. The smartphones also have a longer battery life than its predecessors. The A10 Fusion's CPU now has four cores, integrating two high-performance cores that run up to two times faster than iPhone 6, and two high-efficiency cores that are capable of running at just one-fifth the power of the high-performance cores. Graphics performance is also more powerful, running up to three times faster than iPhone 6 at as little as half the power, enabling a new level of gaming and professional apps, according to Apple.
Both phones include support for up to 25 LTE bands and LTE Advanced for three times faster data rates than iPhone 6 at up to 450 Mbps. For customers in Japan, iPhone will now support the FeliCa contactless technology, bringing the ability to use credit and prepaid cards, including on iD and QuicPay domestic networks, and Suica, Japan's transit card issued by JR East.
New stereo speakers offer sound that is two times louder than iPhone 6s, offering increased dynamic range of sound and a higher quality speakerphone. The new iPhone comes with EarPods with Lightning connector as well as a 3.5mm headphone jack adapter that allows customers to use old headphones and accessories.
The new AirPods, Apple's new wireless headphones, feature the new Apple W1 chip. The AirPods harness the power of Siri, allowing users to access their personal assistant with a double tap.
The iPhone 7 and iPhone 7 Plus come in a design in silver, gold and rose gold finishes and introduce two all-new black finishes, a black finish that has an anodized matte appearance, and an jet black finish that has a deep, high-gloss look. The new jet black finish is accomplished through a nine-step process of anodization and polish for a uniform, glossy finish, according to Apple. An entirely reengineered enclosure results in a water resistant iPhone offering protection against spills, splashes and dust.
The new iPhone features a new Retina HD display with a wide color gamut for cinema-standard colors, color saturation and color management. There is an all-new solid-state Home button on iPhone 7, which, working in tandem with the new Taptic Engine, provides more precise and customizable tactile feedback.
The iPhone 7 and iPhone 7 Plus will be available in silver, gold, rose gold and the new black finish in 32GB, 128GB and 256GB models starting at US$649, and the new jet black finish will be offered exclusively on the 128GB and 256GB models.
Through Apple's iPhone Upgrade Program, customers in the US, and for the first time in the UK and China, can get an unlocked iPhone 7 or iPhone 7 Plus, with the protection of AppleCare+, choose their carrier and have the opportunity to upgrade to a new iPhone every year. The iPhone Upgrade Program is available with monthly payments starting at US$32.3
Customers will be able to order the iPhone 7 and iPhone 7 Plus beginning September 9, with availability beginning September 16, in Australia, Austria, Belgium, Canada, China, Denmark, Finland, France, Germany, Hong Kong, Ireland, Italy, Japan, Luxembourg, Mexico, Netherlands, New Zealand, Norway, Portugal, Puerto Rico, Singapore, Spain, Sweden, Switzerland, Taiwan, UAE, the UK, US Virgin Islands and the US.
The iPhone 7 and iPhone 7 Plus will be available in Andorra, Bahrain, Bosnia and Herzegovina, Bulgaria, Croatia, Cyprus, Czech Republic, Estonia, Greece, Greenland, Guernsey, Hungary, Iceland, Isle of Man, Jersey, Kosovo, Kuwait, Latvia, Liechtenstein, Lithuania, Maldives, Malta, Monaco, Poland, Qatar, Romania, Russia, Saudi Arabia, Slovakia and Slovenia beginning September 23. The iPhone 7 and iPhone 7 Plus will also be available to customers in India beginning October 7.
The new Apple-designed wireless AirPods including charging case will be available for US$159 beginning in late October. All iPhone 7 and iPhone 7 Plus models will include EarPods with Lightning Connector and a Lightning to 3.5 mm Headphone Jack Adapter, also sold separately for US$29 and US$9, respectively.
Apple-designed accessories including leather and silicone cases in a range of colors will be available starting at US$35 and iPhone 7 Smart Battery Case will be offered in black and white for US$99. Lightning Docks in several color-matching metallic finishes will also be available for US$49.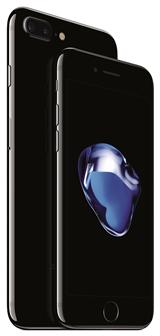 Apple iPhone 7 and 7 Plus
Photo: Company