Gigabyte Technology has announced the availability of two new variants of GeForce GTX 1070 graphics cards. They are the small form factor GTX 1070 Mini ITX OC Edition (GV-N1070IXOC-8GD) and the dual-fan GTX 1070 Windforce OC Edition (GV-N1070WF2OC-8GD).
Measuring 17cm in length, the GTX 1070 Mini ITX OC Edition is designed for building compact gaming PC or HTPC powered by the latest Pascal GPU. Equipped with three pure copper heat pipes that directly sit on GPU and a single 90mm blade fan with semi-passive cooling, the cooling module is able to dissipate heat effectively while keeping the fan operating at a low noise level, according to the vendor.
Engineered with the Ultra Durable chokes and capacitors, the graphic card ensures performance and durable system lifespan. Compared to the reference's 4+1 power phase design, the card is built for overclocking with the 5+1 power phases, making the MOSFET working at a lower temperature for more stable voltage output.
With a click of the OC Mode button built in the newly developed Xtreme Engine utility software, gamers can overclock the card.
Gigabyte also offers a dual-fan solution, the GTX 1070 Windforce OC Edition, which packs the Windforce 2X cooling system, featuring two 90mm fans, two pure copper composite heat pipes, directly touching GPU, and blade fan design, together delivering an effective heat dissipation capacity at lower temperatures. The 3D Active Fan provides semi-passive cooling, as the fans will remain off when the GPU is under a set loading or temperature for low power gaming.
The GTX 1070 Windforce OC Edition also uses the Ultra Durable internal components to enhance overall performance and product lifespan. Its 6+2 power phases allow the card to be overclocked with more stable voltage output.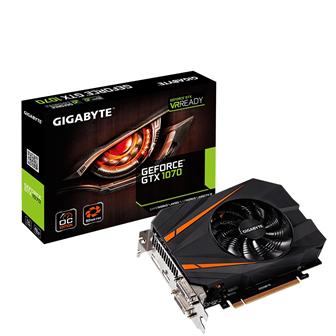 Gigabyte GeForce GTX 1070 Mini ITX OC Edition graphics card
Photo: Company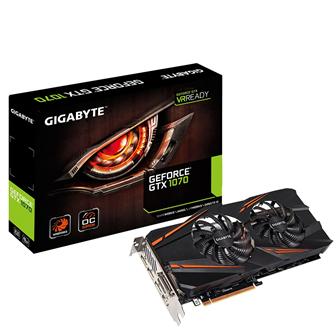 Gigabyte GeForce GTX 1070 Windforce OC Edition graphics card
Photo: Company