USB-IF promotes USB Type-C connectors to enhance performance and user experience
Press release
The USB Type-C specification was published by USB Implementers Forum (USB-IF) in August 2014, and less than 18 months later, sleek new products have arrived on the market including smartphones, slim notebook PCs, tablets and more. This new cable and connector scheme is generating significant buzz and excitement from the expansive, global consumer market and is expected to make its way into high-volume shipments of mobile devices, laptops, 2-in-1 notebooks and other multimedia devices.
USB-IF is a non-profit organization dedicated to the advancement and adoption of Universal Serial Bus (USB) technology. There are currently more than 800 member companies involved, 49 percent of which are from China, Taiwan and Hong Kong. DigiTimes had the opportunity to interview USB-IF's President and Chief Operating Officer (COO), Mr. Jeff Ravencraft, as well as USB-IF's Chief Technology Officer (CTO), Mr. Rahman Ismail, to discuss the overall development of USB technology. DigiTimes also had the opportunity to view member demonstrations of USB technology at the USB Community pavilion booth at Computex 2016.
USB Type-C cables and connectors fulfill the strong demands to upgrade video, audio, data transfer and power charging features
To address the demand of digital video, audio, data transfer and power charging requirements, USB-IF saw the need for a new, robust cable and connector. And so, this new specification was prepared by a panel of international experts and contributed on four main advantages:
First, there is the performance jump. The USB Type-C cable is capable of supplying fast data transfer speeds of up to 10 Gbps. There are two types of data transfer speeds: one up to 5 Gbps known as "SuperSpeed USB" and the other up to 10 Gbps called "SuperSpeed USB 10 Gbps." The performance level is designed to scale upwards of 20Gpbs or 40Gbps in the future, but as Mr. Ravencraft highlighted, the 5Gbps speed is already more than enough to fulfill consumer demands for current multimedia applications.
The second, is the single USB Type-C connector designed to connect all USB devices. The physical dimension of the USB-C connector is 8.4 mm x 2.6 mm, slightly bigger than the previous micro-USB connector. It is more robust and designed to handle at least 10,000 receptacle uses within its lifetime. Many of the newer platforms and devices are reaching a point where existing USB receptacles and plugs are inhibiting innovation, especially given the relatively large size and internal volume constraints of the USB Type-A and USB Type-B standard connectors. As a result, the USB Type-C slim and sleek connector was tailored to fit the thinner form factors and platforms used in mobile device product designs.
The USB Type-C cable and connector is also reversible in nature. The pins are arranged in a mirrored configuration, with six different pairs in a full-featured cable assembly. There are four extra pins that serve functions of new USB features. The two sets of USB 2.0 differential pairs in the connector only connect to a single differential pair in standard USB 2.0 or full featured USB Type-C cables.
The third advantage is the battery charging features. The USB Type-C connector introduces two new native charging options, but is also compatible with legacy charging options. USB Power Delivery (PD) is supported, but optional. With combined USB PD chipsets, it could supply up to 100W of continuous power flow, enough to power a refrigerator according to Mr. Ravencraft.
The forth benefit is USB Type-C Alternate Modes. USB Type-C Alt Modes enable the multi-purposing of designated pins in the connector for alternate protocols such as DisplayPort, MHL, Thunderbolt or SATA. The beauty of Alt Modes is that it enables a USB Type-C host or device to support optional display or power charging capabilities. This benefits consumers and systems designers, as it only requires a single connector, thereby reducing costs and increasing system functionality.
Ultra-high bandwidth video capabilities can be reached using USB Type-C Alt Modes. This is a great benefit for end users using a single USB Type-C to HDMI, DVI or VGA adapter or dock to connect their mobile devices to other displays.
USB-IF promoting authentication to clear up the confuse of USB Type-C
Although the reversible USB Type-C connectors and faster SuperSpeed USB 10 Gbps technology are providing ease of use and performance benefits for consumers, there is confusion regarding what capabilities are included in each cable. For instance, some system makers have developed USB Type-C connectors using the USB 2.0 specification with slower data transfer speeds. Moreover, there are some OEMs producing non-compliant cables that do not follow the design instructions outlined in the USB Type-C Specification. As a result, they pose a risk to the functionality and interoperability of USB products.
To address these issues, USB-IF has an active campaign to educate end users to "look for the logo" and to only purchase compliant products from trusted sources. Further, USB-IF released the USB Type-C Authentication Specification using a cryptographic-based authentication protocol for USB Type-C chargers and devices. Using this protocol, host systems can confirm the authenticity of a USB device, including capabilities and certification status. This verification process occurs simultaneously when a USB Type-C cable is plugged in the port and before compromising power or data can be transferred. This new authentication protocol empowers host systems to protect against non-compliant USB devices and to mitigate risks from maliciously embedded hardware or software in USB devices attempting to exploit a USB connection. According to Mr. Ravencraft, it will take about 8 to 12 months to see authentication taking place, but it is a big move for the USB technology ecosystem.
USB-IF and IEC expanding cooperation to support USB Type-C connector in European market for power delivery and device charging applications
USB Power Delivery was developed with the vision of delivering universal power charging for consumers, as well as reducing electronic waste by offering a standardized alternative to proprietary chargers. Mr. Ravencraft mentioned this was another big move for USB-IF and the technology industry. Collectively working with the International Electro-technical Commission (IEC), USB-IF intends to expand international standards cooperation to include the USB Type-C specifications. This will be considered for inclusion in the newly approved IEC International Standard IEC 62680 series. This approach for ongoing standardization work is driven by the ultimate IEC's goals of increasing external power supply reusability, supporting consumer convenience, maintaining product reliability and safety. In addition, widespread adoption of the resulting international standards will help to reduce the poorly designed or manufactured aftermarket substitutes which may affect the operation of electronic devices in compliance with regulatory requirements.
"It is no surprise that Taiwan is the home of so many electronic device manufacturers and advanced technology providers, especially consider that 22 percent of USB-IF members are from this region," Mr. Ravencraft highlighted. "We truly appreciate all of the support and contributions that our Taiwanese members and technical experts have made to the development of USB applications over the years. It is exciting to see to see the growth and continued adoption of USB Type-C technology spawning in this region and we look forward to what future product generations bring."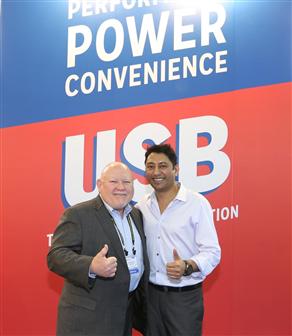 Jeff Ravencraft, USB-IF president and COO, and Rahman Ismail, USB-IF CTO at Computex 2016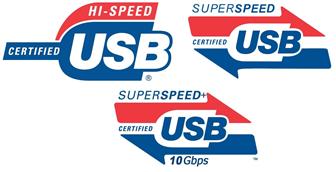 USB-IF promoting USB authentication that including Hi-Speed USB, SuperSpeed USB and SuperSpeed USB 10 Gbps logos
DIGITIMES' editorial team was not involved in the creation or production of this content. Companies looking to contribute commercial news or press releases are welcome to contact us.