Leadtek looks to build on healthcare solutions leverage its longtime high-performance visual computing technologies by eyeing medical IoT opportunities
Press release
Founded in 1986, Leadtek has three decades of experience in delivering high quality visual computing solutions and maintaining reliable supply. The widespread graphics display cards and market activities range Leadtek a unique and unmatched position in Asia. In order to handle the increasing number of design engineers and required graphics power in supporting varying hardware setups and dozens of different applications, Leadtek adopted NVIDIA GRID virtual desktops and application technology to streamline its visual computing server solutions with optimized GPU resources.
Meanwhile, with its visual computing product quality steadily reaching new heights and its customer services getting stronger, Leadtek decided to expand into IoT and healthcare sectors since 2000 and gradually penetrated into the market with a series of certifications including Taiwan Ministry of Health and Welfare and comply with EU safety, health and environmental requirements.
For further exploring the healthcare solutions, IoT products and cloud servers leverage the strength of virtual desktop Infrastructure (VDI) and dynamic allocation of GPU power, Digitimes had the opportunity to interview with Mr. KS Lu, Leadtek's CEO and president, discuss the company's products showcasing at Computex 2016 and overall outlook for the market in addition to the company's strategy to develop healthcare solutions.
From virtualization to deep learning training, Leadtek GPU accelerator product lines serve higher end applications
The first highlight in Leadtek Computex booth is virtualization computing product lines. As designer engineers, power users, or knowledge workers looking for highly responsive virtual desktops and increasing user density by allocating more efficiently GPU power through adopted servers to enable applications for viewing 3D-intensive multimedia contents, heavy CAD models and office productivity in a virtualized and secured environment. Leadtek's WinFast GRID Servers and add-on boards deliver high-performance sharing of the GPU across multiple users, optimizes hardware configuration and the NVIDIA's GRID technology. Leadtek's GRID add-on boards are specifically designed to enable securer, faster, interactive graphical experience to a variety of users in virtualized environments. NVIDIA's GRID vGPU (virtual GPU) Manager allows up to 16 users to simultaneously share a single GPU, which instantly increased user density without compromising graphics performance.
In the other hand, Leadtek also well integrates with industry-leading virtualization solutions, such as VMware Horizon View, PCoIP Zero Clients to complete a consistent, fully interoperable system. Especially, Zero Client enables all computing resources and data to be transferred to the centralized server in a secure data center and lowers support overheads for IT engineers. The whole system enhances enterprise data management and security over a standard IP network while delivering an enhanced user experience to comply with the increased number and complexity of corporate demands.
Mr. Lu also mentioned deep learning technology has become the fundamental building block in delivering amazing cloud solutions for end users. It is a big opportunity for GPU accelerator because the unique strength of memory access and computing power for dramatically reducing training time within hours versus days on CPU based computer systems. The GPU accelerator is quickly aiming to provide the solutions in the high performance computing sector.
Leadtek Healthcare Solutions focus on Cardiovascular Disease
Healthcare solutions are one of the major focuses in Leadtek Computex show booth. These solutions mostly are through the development efforts from ApoDx Technology and Wegene technologies. Both are Leadtek invested companies and subsidiary. Integrated with a comprehensive array of technologies and medical wearable devices including different biochemical sensors, physiological measurement devices for home use and real-time online service, Leadtek aims to deliver complete and real-time cloud solution to provide day-to-day health management to the patients of cardiovascular disease and workaholic burnout syndrome by measuring various physiological data.
This is because Leadtek believes that day-to-day health management is a better solution compared to treatment. With integrated with core medical technologies, Leadtek's amor H1 Mini-ECG Recorder provides features precise measurement of the user's heart rate variability (HRV) statistics. Coupled with the amor H1 APP that provides statistics charts and sent various physiological data wirelessly to the Leadtek's amorRunner Cloud server which is embedded in the Leadtek virtualization infrastructure, users will not only be able to keep track of their workout results but also facilitate the activity to achieve better physical fitness.
The benefits of leveraging its virtual desktop infrastructure (VDI) and dynamic allocation of GPU power to virtual machines via vGPU, Mr. Lu continued, the current Leadtek's healthcare solutions are trying to integrate with AUDICOR technologies. This is one of the best exercises to help physicians to provide a powerful clinical tool that integrates heart sound detection and analysis with electrocardiography (ECG) for earlier diagnosis of cardiac patients at high risk. Through this optimized healthcare services and utilized AUDICOR technologies in its integration, Mr. Lu highlighted proudly, it is going to have huge opportunity to help human to reduce mortality and morbidity in cardiovascular disease every year.
The Leadtek's healthcare solutions are going to launch with Taiwan hospitals together in this year. It is also targeting the medical corporate projects with worldwide hospitals.
The medial IoT solutions for assisting further health care of patients
Through the integration of daily healthcare solutions and features such as medical wearable devices which collect day-to-day physiological data of patients, Leadtek is trying to integrate its home video surveillance technologies and global positioning service (GPS) for introducing medical IoT solutions. For patients recovering at home or nursing facilities after surgery, once the alarm is triggered, the Leadtek solutions bring together IP camera, network video recorder (NVR) Servers, alarm devices and a central management system (CMS) automatically stream images from the location to the manager's mobile device. Coupled with the indoor Beacon and outdoor GPS services, the precise location of the event or patient will be shown on the map to shorten response time and ensure none of the golden hour is wasted. So Healthcare Professional Provider can provide remote care for patients when issues occur. Leadtek has created a well-rounded cloud services for health and safety care in its healthcare integration.
Leadtek will also be featuring wearable devices and healthcare products using its brand name "amor" in the market. These products are also developed for the people with poor blood circulation including Far Infrared Wave Nano Band. To see more Leadtek's products, Mr. Lu welcomes guests to visit Computex Booth# A0813a at TWTC Exhibition Hall 1 to jointly explore Healthcare, medical IoT cloud-based solutions, desktop virtualization computing, and more. For detailed product information, please visit: http://www.leadtek.com/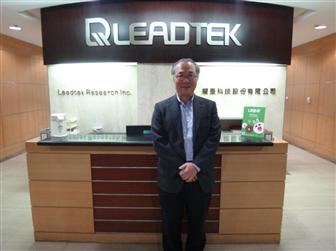 Mr. KS Lu, Leadtek's CEO and president human to reduce mortality and morbidity in cardiovascular disease every year
DIGITIMES' editorial team was not involved in the creation or production of this content. Companies looking to contribute commercial news or press releases are welcome to contact us.