Targeting massive opportunities arising from the global gaming industry, AVEXIR Technologies with professional R&D capabilities, high production efficiency and comprehensive customer support has made impressive achievements in the high-end gaming memory market in recent years. The multitude of gaming memory and SSD series AVEXIR has launched and gained positive reviews from gamers around the world. For example, IMPACT series and Red Tesla debuting at Computex Taipei 2015 were not only ASUS ROG certified but also highly acclaimed by-vistors, with the products topping the gamers' wish list. Both series are officially available on the global market in 2016.
Han-Hong Cheng, general manager, AVEXIR Technologies, states, "We take the highly praised breathing light memory and recreate a look combining Mayan markings and other design elements including ROG feature and spirit on the heat spreader of the memory and thereby launch the two gaming memory products gamers are looking forward to. Taking into consideration the clearance issues large-size CPU coolers impose on memory, the IMPACT series is a memory solution offering a fitting design with cooler structure and enabling high speed overclocking operations. In addition, the series makes use of new light guide sticks with only red LED lights in perfect match with ASUS ROG's red and black theme, synergistically creating a pleasing lighting effect."
Red Tesla is an extended design from AVEXIR Technologies' Raiden series. Also themed on the red color element of the ASUS ROG spirit, Red Tesla is a unique red Raiden exclusively for ROG. Designs in different hues are added to the original feel of ions irregularly bouncing. The unique rhythm of the red Raiden is additionally enhanced with embossed Mayan printing on the product casing, making it the most eye-catching among the Raiden series.
No more game lag! AVEXIR Technologies debuts super speed AVEXIR S100 series SSD
As gamers will never stop asking for higher performance, AVEXIR Technologies had introduced two much raved-about SSD products years ago including the E100 series, a storage product designed with low costs and high access speed for beginner gamers. The V1 series with super high access speed is the top choice for many gamers due to its affordable costs and superior CP ratio.
To meet gamers' stringent requirements, in 2016, AVEXIR Technologies has launched S100 series SSD with a whole new design combining the spirit of the much applauded breathing light with uniform light guide panels so that the LED lights exhibit a natural smooth feel, creating an enjoyment of lighting effects inside the computer casing. Furthermore, S100 series SSD casing is built with multiple composite materials to present a unique design with lines and layering effect, so even when unplugged, the product still outshines its peers with its extraordinary marvel.
Cheng explains S100 series SSD is designed with the company's exclusive multi-layering casing built with all metal materials, a style rarely seen in the industry, in combination with patented LED lighting available in five different color patterns blinking in a rhythm mimicking breathing. S100 with the cutting-edge design has transcended from being a simple storage device to an integral part making up a complete gaming experience.
AVEXIR S100 series SSD is available in 120GB /240GB/ 480GB capacities and a three-year warranty so consumers can choose the color and spec best suited to the actual use scenario. The purchase of S100 comes with AVEXIR's exclusively designed SATA cable and 3.5" bracket for convenient installation in the computer casing and hassle-free enjoyment of gaming.
AVEXIR Technologies plans to unveil innovative products to the world has never seen before at Computex Taipei 2016, fully demonstrating its outstanding R&D capabilities and innovations. Visitors are welcome to AVEXIR exhibits (Nangang Exhibition Center I0818) for a first-hand experience on AVEXIR's amazing creativity during May 31-June 4.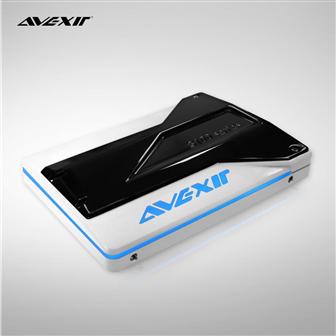 Avexir Technologies has launched the world first LED SSD: S100 series SSD in 2016
DIGITIMES' editorial team was not involved in the creation or production of this content. Companies looking to contribute commercial news or press releases are welcome to contact us.