Rosewill, a leading manufacturer of PC gaming gear, PC components and consumer electronics, has selected Computex 2016 to unveil the latest additions the company's expanding product lines. Rosewill's booth is located in the Nangang Exhibition Hall, Ground Level (1F) in Components and Parts area, at booth #: J0403a.
Rosewill has officially introduced to the market its new gaming series logo, Rosewill Gaming. This logo was created with gaming enthusiasts in mind, as the company's gaming products provide users the freedom to build their own PCs to fit their own gaming needs.
Guaranteed to maintain the company's reliable and high quality attributes while featuring new, stylish ascetics, Rosewill launches its new gaming logo with eight cases and three PSU's at Computex 2016 to identify and brand itself within the competitive gaming market. Rosewill's newest gaming products are without a question the "explosive gear for your gaming arsenal".
Rosewill's new TOKAMAK series titanium efficiency power supplies, which made a brief debut in 2015 as a prototype, will be available in the market by the third quarter. It will be the first of its kind to provide a unique method to notify users when their PSU has surpassed optimum power efficiency, a scenario Rosewill will be replicating in its booth. In addition, the existing and popular QUARK series platinum efficiency power supplies will be receiving this upgraded feature as well.
The most eye-catching, the new CULLINAN mid-tower ATX case is the most talked about product on display. This case features a tempered glass design, crafted to highlight rig components, and also supports up to 420mm GPU cards and 360mm liquid cooling solutions. This is the first of its kind, as Rosewill is focusing on providing consumers with stylish and reliable solutions to add to its ever-expanding product line.
The Tom's Hardware "Editor Recommended" Nighthawk 117, a full tower gaming computer case, also remakes its appearance at Computex. This case supports up to 420mm GPU cards and is equipped with five pre-installed fans, top fins for maximum airflow, as well as an easy-access dust filter. Tested on temperature escalation and noise level, Rosewill Nighthawk 117 was rated with outstanding temperature-to-noise ratio at full fan speed and comes with a great value. A classic high-end gaming case supporting liquid-cooling radiator, Rosewill's Nighthawk 117 is an award winner for your ultra-performance rig build and delivers the ultimate gaming experience.
With a strong focus on the IO market, Rosewill will upgrade its RK-9000 series keyboard with its new mechanical gaming keyboard, the RK-9000V2 RGB. This keyboard will have full single lid LED capabilities to configure any way desired. The RK-9000V2 RGB is crafted with 100% Cherry MX switches, six pre-programmed modes and five profiles with up to 50 macro settings and Real Time Response.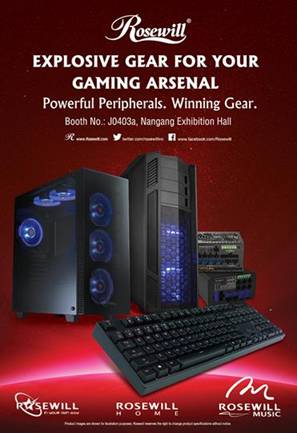 For more information about Rosewill's various product lines, please visit http://www.rosewill.com.