CviLux launches new generation of Apple Homekit devices and Opro9 SmartDiaper
Press release
CviLux (Opro9 brand) has taken the lead to launch Apple Homekit devices in Taiwan. The first series will be smart outlet and light bulb, and more will come in the future. CviLux has built a foundation to provide iPhone flash drive with encryption function for data protection, so we got approval from Apple to develop and produce Homekit devices based on encryption and wireless technologies.
The characteristics of Apple Homekit devices are: one MFi approved app, operating through different brands of Apple Homekit devices; OTA (over the air) update on the software and long hardware life; Apple-Bonjour standard meets zero configuration for end user's friendly setting to Home/Room/Zone/Scenario easily; remote control by Siri voice command, both indoors and outdoors; highly encryption function to protect user privacy. And CviLux develops its own app, software and cloud service, which creates product differentiation and competitive advantages.
CviLux-Opro9 has launched SmartDiaper. Infants and children generally wear one diaper for a long period of time which can cause diaper rash and skin infections. Severe infections can even jeopardize the lives of infants. The CviLux-Opro9 Smart Diaper sensor, manufactured using SGS certified-safe materials, doesn't even touch the child's skin directly, but only needs to be put on the outside of the diaper. When the infant urinates, temperature and moisture information will automatically be sent to the cellphones and tablets of parents, and will remind parents it is time to change the child's diaper using sound, vibration, and graphical means. The Opro9 SmartDiaper app, free on the App store, provides an easy-to-use, beautifully designed, interface to help new parents review and track their child's habits. The app provides statistical information, including records of daily and weekly urination times, average number of times urinated, urination frequency and so on, to allow parents to use the app records to make appropriate health-related decisions. If parents agree to allow upload of their child's data to CviLux's secure cloud, then the company's cloud-based data analysis programs, combined with clinical research from medical professionals, can provide parents with even more accurate health care data about the child's health.
Future development plans include working in cooperation with manufacturers of diapers and baby supplies to provide targeted in-app advertising and e-commerce options, to help parents of newborns receive timely information on relevant, high-quality baby-care products.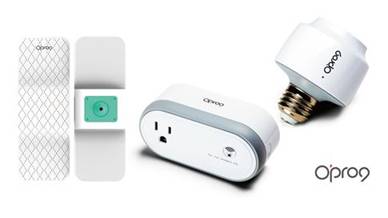 Photo: Apple Homekit devices and Opro9 SmartDiaper
During computex, CviLux is at Nangang Exhibition Center (Hall-4, M0320) from May 31 to June 4, 2016.
About CviLux
CviLux is a listed company in Taiwan and an Apple MFi manufacturer (Made For iPhone/iPad/ipod, CM6.4)). The CviLux Group consists three main business units: Connector & Cable Business Unit, Mobile Electronic Business Unit and Cloud Service and S.I. Business Unit. It is dedicated to making high quality products and providing turnkey total solutions from components, PCBA to final electronic product assembled. Its business model is based on OBM and ODM, local and on-site warehouse/logistic service in Taiwan, Hong Kong, mainland China, Singapore, California-USA , and Holland-Europe, etc . It strives for O2O- B2B-B2C online and office services. It runs the Opro9 brand worldwide .