Apple has updated the entire iMac family, bringing a new Retina Ultra HD display to the 21.5-inch iMac for the first time and the Retina 5K display to every 27-inch iMac. The updated iMacs also feature more powerful processors and graphics, two Thunderbolt 2 ports and new storage options.
Apple also introduced a new lineup of wireless accessories including the Magic Keyboard, Magic Mouse 2 and Magic Trackpad 2. The Magic devices feature rechargeable batteries that eliminate the need for disposable batteries. The new Magic Trackpad also brings Apple's Force Touch interface to the desktop.
The 21.5-inch iMac is available with the all-new Retina Ultra HD display featuring a 4,096 by 2,304 resolution and 9.4 million pixels, 4.5 times more than the standard 21.5-inch iMac display. Every 27-inch iMac features a Retina 5K display, currently the highest resolution all-in-one display with a 14.7 million pixels, 7 times more pixels than an HD display.
The new Retina 5K and Ultra HD displays feature a wider P3-based color gamut that provides a 25% larger color space.
The new 27-inch iMac with Retina 5K display now comes with sixth-generation Intel Core processors and the latest AMD graphics that deliver up to 3.7 teraflops of compute power. The new 21.5-inch iMac with Retina Ultra HD display features a fifth-generation Intel Core processor and enhanced Intel Iris Pro Graphics. Two Thunderbolt 2 ports now come standard on all iMacs and deliver up to 20Gbps data transfer speeds for external drives and high-performance peripherals. And three stream 802.11ac Wi-Fi allows iMac to support up to 1.3Gbps wireless networking.
Fusion Drive combines the large storage capacity of a hard drive with the high performance of flash to deliver shorter boot times and faster access to apps and files. Fusion Drive works in conjunction with OS X to adapt to the way consumers use their iMac and automatically moves the files and apps they use most often to flash storage. Fusion Drive pairs a 1TB hard drive with 24GB of fast flash. Fusion Drive is also available with 2TB and 3TB configurations with 128GB of fast flash for more demanding workloads. For the ultimate in storage performance, optional all flash storage is available up to 1TB and is now up to 2.5 times faster.
The 27-inch iMac comes in three models starting at US$1,799, US$1,999 and US$2,299, while the 21.5-inch iMac is also available in three models starting at US$1,099 and US$1,299 and with a Retina Ultra HD display starting at US$1,499.
Every new iMac comes standard with the new Magic Keyboard and Magic Mouse 2, and customers can order the new Magic Trackpad 2 as an option. Magic Keyboard is available for US$99. Magic Mouse 2 is available for US$79. And the Magic Trackpad 2 is available for US$129.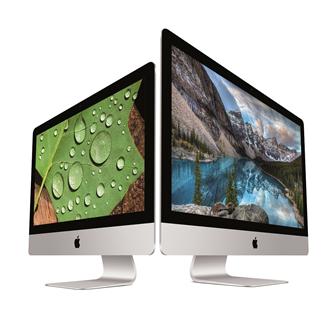 Apple iMac all-in-one PC with new Retina display
Photo: Company