FORTREND Flexible Nano Liquid Diamond coated Touch Panel
Press release
FORTREND newly developed Flexible Nano Liquid Diamond coated Touch Panel, based on the high hardness surface of Liquid Diamond coating, to make PET/PMMA/PC/Acrylic thin sheet into durable Touch Panel, acquires the character of high transparency, flexible, high impact, non-breakable.
The FORTREND OGS unique structure and process only use one piece of transparent substrate with capacitive fast response, dependable function and also the Liquid Diamond anti-scratch, anti-germ, easy clean and reduce blue / UV ray, reduce electrical magnetic wave etc, can be used in many environment harsh applications.
Transparent Substrate

PET / PMMA / Acrylic / PC thin sheet

Surface Hardness

9 H

Touch Panel Structure

FORTREND Patented OGS structure and process technology

Specialty

OGS High sensitivity + High Impact + Durability + Flexible
Light in weight, especially in large size, only 1/3 of glass

Permanent Liquid Diamond function

Superior High Hardness, durable anti-scratch, anti-germ, self-clean & easy clean,

de-odorant, Anti- UV / Blue ray, Reduce Electrical Magnetic wave

Application

Hand held devices, NB PC¡BAIO PC¡B
White appliance / Refrigerator¡BMicrowave Oven¡B
Air Conditioner¡BWasher¡BIOT Touch Screen
Auto & Aviation Infotainment, Education hand write device
Children education and learning devices
*Auto & Aviation Infotainment mounted on the chair, needs high impact durable, non-break in accidents, no sharp edge created, not hazardous to passengers.
*The most happened damages of NB and Phone are panel broken by dropping; if use flexible TP, not only itself durable but also protective to inner LCD screen.
*Nano Liquid Diamond coating has a series of anti-scratch, anti-germ, self and easy clean, reduce UV & Blue ray, apparently better than other TP on market.
Flexible transparent substrate made the possible of different applications of Home electrical or entertainment appliance in curve status, un-limited design possibility. No matter Gulf or Convex style, and can make larger sizes.
New product will bring new thought, developing new era, the FORTREND Nano Liquid Diamond coated OGS Flexible Touch Panel is on the cut edge of the time.
In the mean time, FORTREND provides the Turn-Key solution of material, production Technology and facilities for the Flexible TP, to whom may interesting in this, Flexible Touch Panel and join the high tech critical component supplier's chain.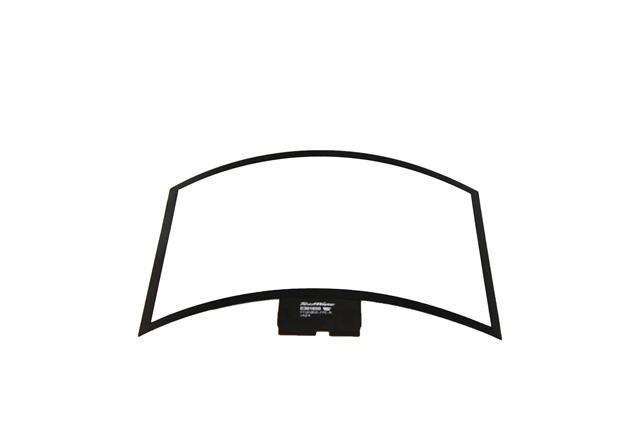 Flexible touch panel