CAYIN to release video wall solution at Computex Taipei 2015
Press release
Digital signage solution developer, CAYIN Technology, today announced its participation in COMPUTEX TAIPEI 2015, the largest ICT exhibition in Asia, taking place in TWTC Nangang Exhibition Hall from June 2nd to June 6th. CAYIN will be introducing SMP-8000, the newest addition to its digital signage player collection, alongside with showcases of the flexible contents it can carry at Booth K0929a.
By integrating technologies including cloud services, sensors, live streaming and more, the SMP-8000 shows promises to enrich the Full HD experience. It not only provides the solutions for users with various needs, whether it's an interactive campaign or digital menu board, but also has the ability to directly connect with video walls. The latest model has 4 built-in display outputs, allowing flexible multi-display modes as many displays as 4x1 or 2x2. Each output supports Full HD display resolution and up to 4K if in Single display mode to present crystal clear images to audiences.
The SMP player is preloaded with user-friendly managing software, which gives users adequate access to utilize various visualizations. The ready-to-use web-based Skin Editor accommodates clients from experts to computer novices, as it requires only simple drag-and-drop to create templates and achieve professional appearances. With very few limitations, users can use HTML5 to design web applications from scratch and even create proprietary management tools via CAYIN's SDK (software development kit).
To illustrate one of the many solutions its SMP players are capable to implement, attendees are encouraged to engage in the Sensor Demo Experience held at CAYIN's COMPUTEX TAIPEI 2015 booth (Booth K0929a). The showcase is set to demonstrate the integration between optical sensors, video camera, and touch screen, as well as the possibility to utilize digital signage as a powerful element of social media campaigns.
"You want to grab the attention of potential customers of today's fast-paced lifestyle," said Ravel Chi, President of CAYIN Technology. "The best way to do that is to bring your contents to life, and we will be at this year's COMPUTEX to help customers explore different possibilities with our SMP-NEO products."
CAYIN expects to elevate the digital signage experience by offering higher visual quality and simplifying the equipments to satisfy the needs of flexible multi-display functions like video walls. By bringing the SMP-8000 into the market, CAYIN will help save the time and hassle in traditional set up, and aid customers to learn information in a much more intuitive way.
CAYIN Technology in Brief
CAYIN Technology offers a complete portfolio of appliance-based digital signage solutions, including media players, servers, and software, for various commercial applications, such as education, transportation, retail, hospitality, corporate use, and financial and public institutions. CAYIN is dedicated to being a reliable partner to its clients worldwide and has successfully set up various application references globally. In order to best facilitate the deployment of CAYIN products, the company also provides tailored services to satisfy the ever-growing market demand for almost limitless applications.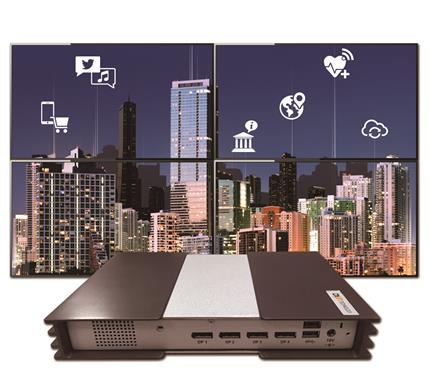 Cayin SMP-8000 digital signage player has 4 built-in display outputs, allowing flexible multi-display modes as many displays as 4x1, 2x2, or 1x3
Photo: Company