AZUL presents new global trend in UI/UX at COMPUTEX
Press release
AZUL Design specializes in providing UI/UX design service solutions including initial use flow planning, visual interface design combining aesthetics, technical program porting and integration, and 3D interface technology. AZUL also offers a variety of digital media design services such as website construction and app development. Three leading chip makers including MediaTek, MStar, and Novatek have chosen AZUL to be their main partner.
The trend and demand in UI/UX design have evolved from design thinking originally focusing on the product itself to being end-user oriented. Modern life is filled with devices such as smartphones, tablets, and even motion sensing interaction gadgets that are more and more popular, attracting use for entertainment purposes and thereby increasing their values and prevalence. The interface models used by these products have deeply rooted in people's lives and affected the surroundings. Therefore, how to design a new interaction model so that the products are easier to use and the applications market can turn a whole new look is what the industries are striving for.
At the COMPUTEXT this year, AZUL Design (Booth K0725a, 1st floor, Nangang Exhibition Hall) bases its UI/UX exhibits on three themes - designs combining aesthetics, diversifying demands by interactive applications, and system porting and integration. AZUL's design thinking centers on users, delivering intuitive and interactive interface designs that can attract all end device users. Not only can the designs make product features stand out but also enable different interfaces on panel displays, tablets, and smartphones, bringing users diverse experiences. If the various functions in the interface are to be imported or exported, AZUL's technical team can create human-machine interfaces by applying its premium quality UI/UX designs to bring endless possibilities into reality.
AZUL Design (Booth K0725a, 1st floor, Nangang Exhibition Hall) shares its years of experience in assisting partners with services in user experience planning, user interface design, software architecture building, and middleware integration. The products co-exhibited with Qt this year include AOC smart TV UI design and middleware integration, Philips smart TV UI development and middleware integration, Chanson Water Ionizer UI/UX user experience design, Home Security user experience design and cross-platform/multi-screen solution, video phone UI/UX user experience design, and IOT smart vending machine UI/UX user experience design. These exhibits will allow more companies with needs for UI/UX design services to better understand the importance and technology of UI/UX.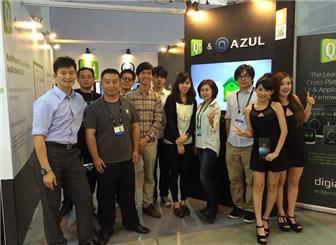 AZUL Design, in cooperation with Digia, will showcase Qt-based embedded systems and cross-platform solutions at Computex 2015
Photo: Company