Gigastone at Computex 2015: To showcase all new fast charging, USB Type C gadgets and other mobile peripherals
Press release
Gigastone will be exhibiting at the 2015 Computex (June 2-June 6) at the Nangang Exhibition Center, Booth K1104. Products to be showcased include a variety of mobile accessories such as fast charging power banks, charging docks, Bluetooth headsets, high speed memory cards, and power banks of various capacities. Gigastone also has a product line geared specifically towards Apple users, including lightning cables, the all new MacBook compatible Type C cables and card readers, protective glass films for the iPhone 6 and iPhone 6 Plus, and even an ultra slim, aluminum cased power bank to match your iPhone.
Smart battery A4 wins the 2015 Taiwan Excellence Award
Gigastone's multifunctional product, the Smart Battery A4 won the 2015 Taiwan Excellence Award with its innovative design. It has been sold across the Americas, Taiwan, Japan, Korea, France, and China. Its minimalistic, stylish factor paired with its power bank and WiFi sharing functions has earned the A4 recognition and approval from consumers worldwide, helping to raise the reputation of Taiwanese products in the global market.
4 in 1 multi-functional device
The Smart Battery A4 combines the four major functions of wireless sharing, wireless drive, power bank, and router. Insert an SD card or microSD card with adapter into the A4 and gain access to the files on your smartphone and tablet using WiFi. It is also compatible with USB flash drives. It can connect up to six devices simultaneously, giving access to multiple people at once. Whether it's at a party or a meeting, people can share pictures and documents without any hassle.
Gigastone: Roots in Taiwan, taking the world by storm
Gigastone is a global brand specializing in mobile peripherals. Through expert technologies and strict screening processes, each of Gigastone's products is of the highest quality. Gigastone currently has eight major offices around the globe, spread throughout Taiwan, the USA, Japan, Korea, France, and China, with distributors in Asia, the Americas, and Europe. Notable distributors include Walmart from the States, Guo Mei and JD.com from China, E-Mart from Korea, and Costco. Gigastone continues to launch a variety of mobile peripherals this year By diversifying its product lines even further, Gigastone is rising fast to become a leading brand in high end mobile accessories.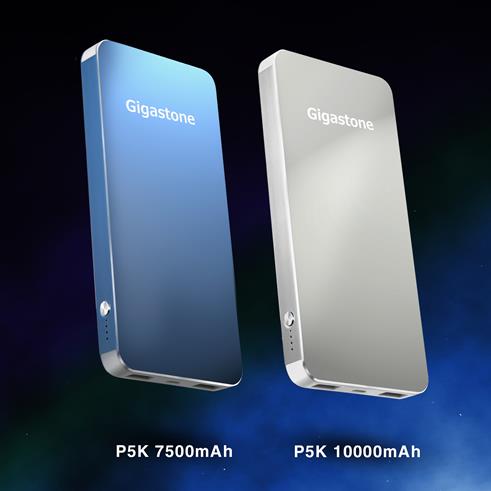 Gigastone ultra thin power bank P5K with 7500mAh and 10000mAh large-capacity polymer batteries
Photo: Company