ASRock Unveils the Next Gen Z170 Motherboards and Brand New HTPC Beebox!
Press release
ASRock Inc, a global leading motherboard brand, will showcase an array of desktop motherboards, gaming barebones and routers, mini PC home theater systems as well as industrial PCs and server/workstation motherboards at Asia's largest IT trade fair COMPUTEX TAIPEI, from June 2nd to June 6th at booth L0317A, 4F, Nangang Exhibition Hall.
Upcoming Z170 Extreme7: d&i award winner!
ASRock Z170 Extreme7 is a high-end ATX sized motherboard built around Intel's next generation flagship Z170 chipset, which supports lots of new computing technologies such as DDR4 and USB 3.1. The XXL Aluminum Alloy Heatsinks have received a new black and copper color scheme and are more effective at heat dissipation. Moreover, the new PWM design which is composed of an 8+4 power phase IR PWM solution, Dual-Stack MOSFETs, Premium 60A Power Chokes, Premium Memory Alloy Chokes and Nichicon 12k Platinum Capacitors, all work seamlessly to promote the system's overall performance and stability while overclocking.
Aside from the usual onboard SATA ports, there are three 32Gb/s Gen3 x4 Ultra M.2 slots and another three 10Gb/s SATA Express connectors for supporting insanely fast data storage devices. As for audio quality, ASRock is still striving for that perfect pitch, hence the onboard audio solution has been upgraded to Purity Sound 3 - bringing sounds that are guaranteed to induce eargasms.
Another highlight for Z170 Extreme7 is the onboard Type-A and Type-C USB 3.1 ports that grant up to 10Gb/s data rates. Speaking of this new Type-C USB 3.1 interface, benefits include a reversible design so that connectors may fit either way, 3.0 ampere fast device charging, enhanced durability so that it may withstand over ten thousand plugs and removals. And most importantly, a more compact size, meaning that it will very likely be implemented on all future mobile devices.
Brand New HTPC series: Beebox!
Our design concept started from one of the most common insects - a bee, because we wanted to create something that was small, quiet, fast and powerful all at the same time. In order to make the exterior incarnate the characteristics of a hard working bee, black stripes and curves were applied, but the real challenge lied in how to contain all that power in such an ity bity space. As anyone may point out, size is normally contradictory to power, performance, dissipation and having more features. Luckily, we had Intel N3000 Series to go with our uniquely designed motherboard for building the tiny yet powerful core parts.
After countless hardware tailoring and tweaks, Beebox turned out to be the only model in the segment to pack serious processing power for supporting 4K playback and triple monitor with a DisplayPort and two HDMI ports, and is also the only one to support dual channel memory. To add icing on the cake, Beebox is also the world's first NUC to come with a Type-C USB interface, featuring a reversible design so that connectors may fit either way, plus it supports 3.0 ampere fast device charging, and its durability has been enhanced so that it may withstand over ten thousand plugs and removals. Additionally, this little fellow comes with an 802.11ac WiFi and Bluetooth 4.0 module, and may serve as a wireless access point. Lastly, to add a cherry on top, ASRock has also prepared a tiny remote controller so that users may operate their HTPC just like an ordinary telly!
For more information please visit: http://www.asrock.com/index.us.asp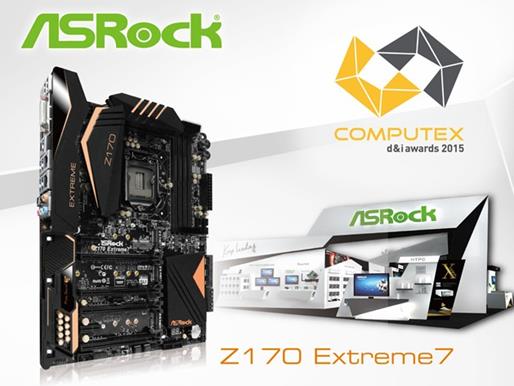 ASRock unveils the next gen Z170 motherboards and new HTPC Beebox
Photo: Company