Given its superior energy density and fast energy refilling nature, hydrogen energy has always been highly valued as the most promising energy technology for automobile applications in the coming future. Moreover, countries including Japan, Germany, the United States, among others, focus on hydrogen and fuel cell technology development for automotive applications as a diversified source for hydrogen production, as well as for the potential to reduce carbon emissions in automobiles.
YCS (YC Synergy Taiwan) has focused on large-scale applications with fuel cell motive power system for many years. YCS had accomplished complete power-train integration, successfully linking fuel cell, motor and control system to provide the clean propulsion power for electric vehicles, and helping the company catch up to automobile giants including Toyota, Honda, and many more, which as a group continue to invest heavily in fuel cell technology.
In recognition of our achievements, YCS has been able to build up a series of relationships with international partners to cooperate on taking our established technology further, while the company continues to build and extend our in-house technology strengths.
Meanwhile, YCS has also won plaudits and support from Taiwan's Department of Energy in Taiwan, and the company was chosen to build the first commercial hydrogen refilling station to support fuel cell vehicle deployment in Taiwan.
YCS has also taken a leadership role in bridging the hydrogen infrastructure and fuel cell technology between Taiwan's diverse industry and the many global partners looking to take advantage of the region's expertise and boosting the local diversified fuel cell market.
In Taiwan, one needs only to look to the waters for evidence of YCS' leadership in the industry. The company has launched numerous fuel-cell boats to test and verify this developing technology in recent years. From the tip of Taiwan where the "Mu-Yang" yacht can be seen in the Tamsui Fishman Wharf, to Taiwan's most famous lake, where the "Na-ru-wan" and "Star of Hope" passenger vessels cruise on Sun-Moon Lake, YCS moves the technology forward.
YCS is aggressively solving some of EV's most challenges issues, including insufficient cruising range, long recharging times, expensive equipment and maintenance costs. YCS' new dual mode system combines a fuel cell with lithium battery technology. This development has greatly improved the current EV's performance. YCS's solution is proven to reduce the weight, extend the range and can accelerate EV commercialization.
Under these developments, YCS is deepening our technology content and focusing on putting fuel cell technology into real applications, and we are confident that with our experience and expertise we have the capability to become a valuable contributor to the fast-growing electric vehicle market.
YCS is able to provide differentiated and customized fuel cell system solution for vehicle manufacturers, system integrators and providers of lithium battery, motor and electric-control solutions. With YCS' complete fuel cell solutions, customers can shorten the development time needed for their next-generation electric vehicles and thus catch onto the fast growing market demand supported by a clean and superior fuel cell technology.
YC Synergy Co. Ltd.,
Tel: +886-2-2218-6683
Web: http://www.ycsynergy.com.tw/
e-mail : info@ycsynergy.com.tw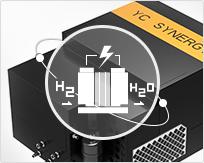 YCS (YC Synergy Taiwan) focuses on large-scale applications with fuel cell motive power system.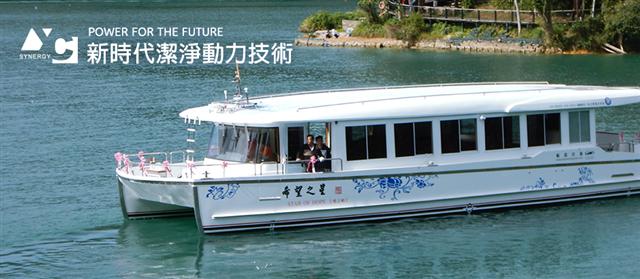 YCS has launched many fuel-cell boats to test and verify this technology in recent years. There are the "Mu-Yang" yacht at "Tamsui Fishman Wharf," the "Na-ru-wan" and "Star of Hope" passenger vessels in Sun-Moon Lake.