Gigabyte Technology is exhibiting its latest innovations at CES 2015 in Las Vegas, the US during January 6-9, with a focus on X99-SOC Champion, a high-end motherboard equipped with Intel chipset X99 and supporting Core i7 CPU and DDR4 memory.
The motherboard adopts Gigabyte's fourth-generation power management module and third-generation PowlRstage chip to help reduce overall power consumption. It also features Turbo M.2 and SATA Express configuration to accelerate data transmission for solid state drive (SSD) and improve graphics output.
Gigabyte also unveiled its latest Brix and Brix S micro PCs featuring Intel's new 14nm fifth-generation Core processors. Both micro PCs support dual-screen output via HDMI and mini DisplayPort and support up to Ultra HD resolution.
They also feature near field communication (NFC) support and are able to connect with up to eight NFC-ready devices.
Gigabyte also cooperated with several system integrators such as Cyberpower and iBuypower to develop customized PCs and is showcasing 10 of these models at the show.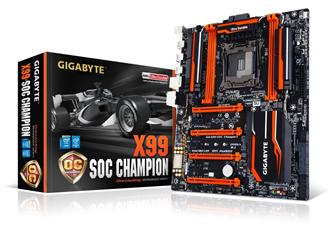 Gigabyte X99-SOC Champion motherboard
Photo: Company