Compal Broadband Networks (CBN) has signed an agreement with Tele Columbus, one of the leading German cable network operators, under which it will supply its CBN CH7485E advanced DOCSIS cable gateway to support Tele Columbus' successful rollout of high speed broadband and telephony services.
The CBN CH7485E advanced DOCSIS cable gateway is a state of the art 16x4 gateway combining DOCSIS 3.0 network speeds of up to 800 Mbps with ultra high wireless speeds up to 1.6 Gbps and an extended coverage area based on its embedded 3x3 11ac Wi-Fi technology with advanced antenna design. Tele Columbus is the first MSO introducing such a powerful cable gateway into the German market.
Besides its tremendous speed capabilities and stylish enclosure design, the CBN CH7485E provides a whole range of advanced feature sets like Community Wi-Fi, full IPv6 support, media server, NAS, full band capture tuner with remote diagnostics, as well as full IMS compatibility. This combination of raw speed power with an advanced feature set makes it the ideal product for the challenges that MSOs face today and their needs for support of a wide range of sophisticated applications at very high speed.
"With Compal Broadband Networks we have found an excellent partner for developing a new future-oriented cable gateway that meets the growing demands of our customers in terms of speed, Wi-Fi connectivity as well as multimedia functionality", says Ronny Verhelst, CEO of the Tele Columbus Group. "The new device will help us to continue our successful growth in internet connections and open new opportunities for additional multimedia services merging the worlds of internet, voice, video and mobile applications."
Alex Wang, CEO of Compal Broadband Networks (CBN): "We are very happy and extremely proud to welcome Tele Columbus, one of the leading MSOs in Germany and pioneer in very high speed services, into the growing family of CBN 16x4 and 24x8 advanced cable gateway customers. We are delighted to be able to support Tele Columbus with the roll-out of their successful high-speed broadband service. Compal Broadband Networks will continue to lead the cable gateway business with a strong and innovative product portfolio well adapted to the needs of our customers."
About Tele Columbus
The Tele Columbus Group numbers among Germany's leading cable network operators and has been successful as a multimedia and telecommunications provider since 1985. Tele Columbus provides some 1.7 million connected households with a TV signal and increasingly more customers with digital program packages, Internet access and telephone connections via powerful broadband cable. As a national provider with regional focus and as a partner of the housing industry, the group is present in its entire core area of Berlin, Brandenburg, Saxony, Saxony-Anhalt, Thuringia and Mecklenburg Western Pomerania as well as in numerous core regions in Western Germany. For more information, visit http://www.telecolumbus.de/
About Compal Broadband Networks
Compal Broadband Networks, Inc. (CBN) is part of the global Compal group. Combining its extensive experience in Cable Voice and Broadband products with its innovative Wireless and in-home Gateway technologies, CBN offers a full line of cable modems, gateways, media gateways, set top boxes and digital connected consumer appliances, such as TV's, Wi-Fi Repeater's, Android based tablets and Smart TV Dongles. As a result of its extensive connected home integration approach, all of CBN products interface with each other seamlessly, allowing people to live a convenient and better life while using CBN products. For more information, visit http://www.icbn.com.tw/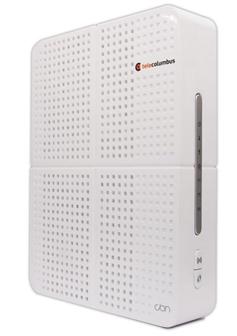 The CBN CH7485E advanced DOCSIS Cable Gateway
DIGITIMES' editorial team was not involved in the creation or production of this content. Companies looking to contribute commercial news or press releases are welcome to contact us.