The video surveillance industry, which is closely tied to security in our everyday lives, is currently undergoing a transition from traditional analog CCTV to digital IP camera technologies. The surveillance industry is also showing a clear trend toward mobile applications, wireless applications, as well as home-oriented applications. The primary goal for the current video surveillance industry is to find a way to secure key components and software/hardware integration technologies, incorporate integrated software and cloud services, integrate tablets and mobile phones, and to penetrate into the average home, thereby making mobile applications even more widespread.
During the first session in the Mobile Technology Forum, Kyle Chang, President of AverLogic Technologies Corp., gave a speech titled "The Next Step for the Security and Surveillance Industry." He first introduced AverLogic's history: It was established in Taiwan in 1998 and began listed on the Taiwan Stock Exchange in December of 2012 (ticker number 6198). AverLogic has two R&D centers, one in the Taipei Neihu Technology Park and the other in Silicon Valley, the US. Its main products include video frame buffer memory (FIFO), video conversion ICs, LCD display controller ICs, and surveillance system controller ICs. Its current customers include Pelco, Philips, Sony, and so on. Many of the companies listed in ASMAG's 2013 Top Security 50 are loyal users of AverLogic's ICs.
With many years of experience in the video surveillance market, Chang subsequently introduced the status and issues of surveillance industry in terms of the scale and product categories of the professional video and surveillance market, distribution in the 2014 professional video surveillance market, primary functions and applications of current video surveillance products, issues that remain to be solved in terms of network IP cameras, and issues that remain to be solved in the overall video surveillance industry.
Digital surveillance products are mainstream in the market
According to data from IMS Research, the scale of the video surveillance product market will grow from more than US$10 billion in 2011 to over US$25 billion in 2016. Further estimations indicate that out of the video surveillance camera products of 2014, 41% will be traditional analog surveillance cameras, 47% digital network surveillance cameras, and 12% of other types; in 2016, digital network surveillance cameras will account for 55% of video surveillance cameras, while traditional analog surveillance cameras will drop to 35%.
Regional analysis of the professional video surveillance market shows that the scale of the Asia-Pacific market is the largest, accounting for 30% of the global market. Western Europe accounts for 27%, North America 22%, and all other areas 21%. The top 50 suppliers account for 83% of total sales in the overall global market.
Chang indicated that out of the main functions of current video surveillance products and applications, mainstream digital IP cameras primarily provide high resolution, multiple video streaming, as well as remote access and storage, while the primary functions of digital video recorders (DVRs) include high-capacity storage, the ability to connect to traditional CCTV analog cameras, and the ability to connect to and receive video from digital IP Cameras or even 720p/1080p HD cameras. DVRs are also capable of providing remote access and storage, and overall system integration of the surveillance environment, with primary applications found in public environments (such as apartment building communities) as well as in fixed installation locations.
Of all professional surveillance products, IP cameras are closest to mobile devices. The problems with current IP cameras include difficult installation, high power consumption, occupying network bandwidth, complex software configurations, as well as backend storage equipment being extremely large and complex. The issues the entire video surveillance industry is facing are: (1) Fierce market competition, with products lacking segmentation and differentiation. (2) Lack of optimization for specific applications. (3) Requiring installation and operation by professional personnel. (4) Lack of suitable solutions for the average-home market. These are all issues that need to be addressed and overcome.
He pointed out that judging from the trends in the current video surveillance market, there is extremely high demand for home-oriented applications. In addition, with the widespread penetration of mobile phones and tablets, the availability of wireline networking and 4G LTE mobile communications, as well as the gradual maturing of the technological environment, professional video surveillance vendors must think about their next move in terms of avoiding specification wars, creating a new innovative market, solving current problems, and advancing towards mobile, wireless, and home-oriented applications.
Video surveillance becoming mobile and penetrating into the average home
Chang pointed out that video surveillance solutions vendors have already developed technologies that take advantage of 3G UMTS/4G LTE mobile communications, WiFi 802.11a/b/g/n wireless LAN, Bluetooth, and RF components, compressing real-time video, transmitting it to the Internet, and displaying images on users' the smartphones or tablets. With the rise of 4G high-speed mobile communications, cloud applications, and IoT, the bottleneck of insufficient network bandwidth will gradually be eliminated.
With the earlier introduction of CIF (352x240) and Sony 960H CCD image sensor devices for IP cameras, there is now a race to support 720p HD, 1080p FHD, and UHD specifications. He pointed out that the next step for the video surveillance market will be to advance toward mobile device utilization, wirelss connection and home-oriented applications. . Video surveillance products will be required to include features that facilitate home caregiving, health management, the ability to connect with mobile devices, the ability to integrate with wearable devices, the ability to integrate with 3G and 4G networks, as well as support for IoT applications. New and innovative markets for vendors to develop include the smart home market, the outdoor recreation and entertainment market, the wearable devices market, and the personal healthcare information market.
Securing key video surveillance technologies
As Chang pointed out, key technologies required by the current video surveillance market include the ability to integrate transmission interfaces such as Bluetooth, ZigBee, Wi-Fi, RF component, as well as 3G and 4G mobile communications. Required technologies also include the ability to optimize power consumption and computing performance, microcontrollers that are just right for the job, as well as video codec processing technologies that support JPEG, MP4, H.264, H.265, 1080p FHD, and UHD. Finally, integrated software services need to be combined with integrated cloud services in order to meet market requirements. AverLogic's newly introduced AL582 video processing IC solution features rich video interface and video conversion, high-performance HD H.264 compression and decompression, environmentally-friendly and energy-saving, highly integrated SoCs, multifunctional control interface/network interface/storage interface, as well as comprehensive technical support and software development kits.
In response to the video surveillance market trending towards mobile, wireless, and smart -home-oriented applications, AverLogic's newest AL582 video processing ICs can be used in IP cameras, dedicated mobile monitors, dome security cameras, DVRs, as well as professional infrared cameras, integrating with cloud services vendors to allow users to achieve video surveillance, home/child/pet monitoring, and remote control/home automation via their mobile phones, tablets, and cars. It also enables recording real-time video from wearable devices, such as smart glasses, and transmitting those videos wirelessly to the cloud as well as to mobile phones, thereby creating even more value for the customer.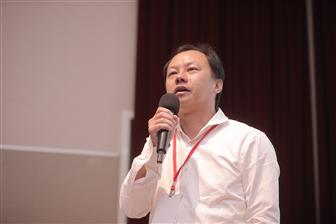 Kyle Chang, President of AverLogic Technologies