Amazon has unveiled Fire, the first smartphone designed by the company and features Amazon's Dynamic Perspective and Firefly. Dynamic Perspective uses a new sensor system to respond to the way consumers hold, view, and move the Fire. Firefly quickly recognizes things in the real world, web and email addresses, phone numbers, QR and barcodes, movies, music, and products, and lets consumers take action in seconds, all with a press of the Firefly button.
Dynamic Perspective uses four ultra-low power specialized cameras and four infrared LEDs built into the front face of Fire, a dedicated custom processor, real-time computer vision algorithms, and a new high-performing and power-efficient graphics rendering engine.
Dynamic Perspective features include one-handed gestures for auto-scroll, tilt, swivel and peek for quicker, easier navigation and a better media and entertainment experience; and the enhanced carousel for developers to customize the contents of their dynamic app and how it responds to user actions, Amazon claimed.
Firefly combines Amazon's catalog of physical and digital content with multiple image, text and audio recognition technologies to quickly identify web and email addresses, phone numbers, QR and barcodes, plus over 100 million items, including movies, TV episodes, songs, and products.
Fire is built using materials including Gorilla Glass 3 for the rear and front, aluminum buttons, stainless steel details and a rubberized polyurethane grip area. The smartphone also features Qualcomm's quad-core Snapdragon 2.2GHz processor, 2GB RAM, 4.7-inch HD display, global LTE and connectivity with nine bands of LTE, four bands of GSM, five bands of UMTS for better voice coverage and faster data speeds, 802.11ac support, Wi-Fi channel bonding, NFC, and Bluetooth.
The smartphone is also equipped with a custom-tuned 13-megapixel rear-facing camera with backside illumination, LED flash, 5-element f/2.0 lens, Optical Image Stabilization (OIS), and HDR capabilities, and a 2.1-megapixel front-facing camera.
Fire ships on July 25 and is available exclusively on AT&T. Fire with 32GB is available for US$199 with a two-year contract.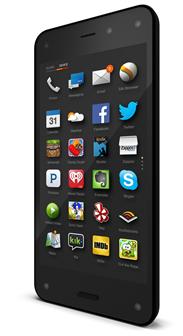 Amazon Fire smartphone
Photo: Company