Berlin, Germany (September 6, 2013) -- Apotop, a Carry Technology Co. Ltd. global consumer brand (TW.3054), will unveil at IFA 2013 the new versatile ApoEye a wireless ultra compact camcorder; a complete line of portable multi-functional WiFi devices which greatly simplifies data transfer between iOS or Android devices and a SD or USB drive; and a high performance small form factor USB 3.0 drive designed for the MacBook.
Apatop has become one of the portable networking and wireless industry's product innovation leaders, continuously launching waves of new technology solutions and products to the marketplace. This extensive range of user friendly portable networking and wireless solutions is another example of Apotop's commitment to support this extremely fast growing market segment.
"The team at Apotop is really excited and proud to launch these new products at IFA this year. These products represent some of the latest cutting edge technology solutions being developed by the industry. And these Apotop products have been designed specifically to meet the needs of today's modern mobile technology user", said Taron Chang, President of Carry Technology Co. Ltd. "At Apotop, we stand behind our products. We are committed to going that extra mile for the consumer and every customer".
ApoEye Portable Wireless Camcorder
In an Ultra compact form factor, the wireless ApoEye can shoot videos and take photos whenever, wherever. It is a perfect companion for outdoor activities like bicycling, hiking, sightseeing, mountaineering, and even walking!
With live streaming technology, you can watch the live video on up to 4 ApoEye devices through the free app on your iOS or Android smart phone or tablet. The ApoEye also supports 2-way voice communication, which makes it ideal for baby monitoring.
Portable Multi-Functional WiFi Devices
Designed for business travelers, Apotop multi-functional WiFi devices such as the Wi-Reader Pro and the Wi-Copy are ultra portable. They can be used as a wireless router, power bank, or a file transfer hub.
With the free iOS or Android app, the Wi-Copy or the Wi-Reader Pro can view, share, transfer and playback files between your smart phone or tablet and a SD/USB drive wirelessly and without an internet connection. You can also stream video, photo, and music to up to 5 devices simultaneously.
Accessories Designed for Your MacBook
Instantly expand the storage of your MacBook or MacBook Air with the AP-U6 or AP-U2 USB drive. Available in 32GB and 64GB (AP-U6), these ultra portable and rugged USB drives with an aluminum unibody are design to fit perfectly in your MacBook or MacBook Air.
The Apotop Magnetic Cooling Stick helps increase air circulation for your MacBook Air. With an elegant and simple design, the Cooling Stick also lifts the MacBook air to a comfortable angle for typing.
Apotop at IFA 2013
Apotop Booth — September 6~11, 2013, Hall 15.1 Booth# 223
Messedamm 22, D-14055 Berlin, iZone.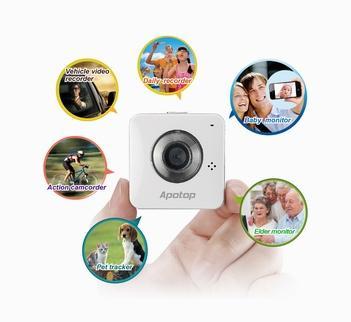 ApoEye Portable Wireless Camcorder
DIGITIMES' editorial team was not involved in the creation or production of this content. Companies looking to contribute commercial news or press releases are welcome to contact us.