Asustek has announced Z87-Deluxe/Quad, featuring the Thunderbolt 2 technology certified by Intel. Based on the new Intel Z87 chipset and ready for the latest fourth-generation Intel Core processors, the Z87-Deluxe/Quad ATX motherboard has two Thunderbolt 2 ports for connecting up to 12 devices at once. Each port has up to 20Gbit/s transfer rate and is backwardly compatible with Thunderbolt 1.
The original Thunderbolt standard has four separate transfer channels - two upstream and two downstream - with a maximum transfer rate of 10Gbit/s per channel. Thunderbolt 2 combines these four channels into two 20Gbit/s bi-directional channels, which are four times faster than USB 3.0, according to the vendor. Together with DisplayPort 1.2 support, this enables Thunderbolt 2 to simultaneously deliver high-resolution video to Ultra HD displays and communicate with other devices, such as hard drives. With the onboard HDMI port, the Z87-Deluxe/Quad can drive three Ultra HD displays at once.
Thunderbolt 2 also supports daisy-chained connections with up to six devices on each port.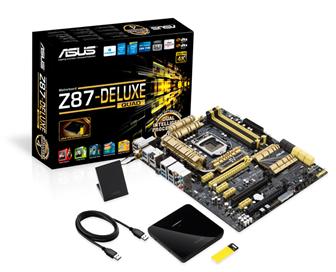 Asustek Z87-Deluxe/Quad motherboard with Thunderbolt 2 support
Photo: Company