Razer announces 7.1 Surround Sound USB gaming headset
Press release, August 23; Joseph Tsai, DIGITIMES
Razer has announced its latest audio product, the Razer Kraken 7.1 Surround Sound USB gaming headset.
The Razer Kraken 7.1 comes equipped with a virtual surround sound engine capable of ultra-low latency audio processing that simulates a 360-degree surround sound experience that is usually achievable only by incorporating more than one positional speaker driver in each ear cup, said Razer.
Driven through Razer's Synapse 2.0 unified configuration software, the engine is capable of a high degree of customization, allowing gamers to tweak and specifically position for each surround sound channel, boost bass levels and balance incoming voice audio.
The omni-directional digital microphone on the Razer Kraken 7.1 comes equipped with an optimized algorithm, promising crystal-clear voice chat that offers better frequency response, sensitivity and signal-to-noise ratio than a standard analog microphone. It also has a mic mute button and an LED indicator.
The headset is priced at US$99.99.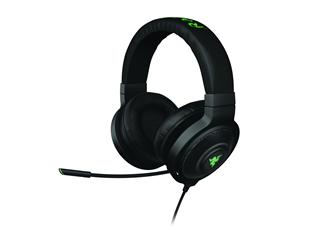 Razer Kraken 7.1 Surround Sound USB gaming headset
Photo: Company