HP introduces new thin client solutions
Press release, August 23; Joseph Tsai, DIGITIMES
Hewlett-Packard (HP) has announced its new thin client solution, the HP t820 Flexible series thin client, and also announced support for new Nvidia GRID graphics processing units (GPUs) for the HP WS460c Generation 8 (Gen8) graphics server blade.
Aimed at reducing price per user and boosting performance for graphics in virtualized environments, the HP WS460c, combined with the HP Multi-GPU Carrier, a graphics adapter card enabling up to eight users per blade, delivers a comprehensive blade server graphics portfolio, said HP.
The HP t820 Flexible series thin client offers users performance and graphics combined with enterprise-level security, ensuring an organization's sensitive data is secured on the server even if its devices are compromised, lost or stolen, HP highlighted.
HP said the t820 benefits organizations in industries, such as financial trading, architecture, engineering, and military or government agencies, that require high-performance computing to run specialty programs.
The HP t820 supports up to three monitors natively and with an AMD Radeon HD 7650A MXM graphics card and with one or more optional multistream DisplayPort hubs, it can expand to seven high-definition (HD) monitors.
The thin client also features HP Velocity network performance management software to automatically adapt to changing network conditions and improves network utilization so users experience fewer disruptions when using real-time communication applications.
The HP t820 is VMware Horizon View certified and RFX certified for Microsoft Windows Embedded Standard (WES) 7 E operating systems.
HP updated the HP WS460c Gen8 Graphics Server Blade with new Nvidia GRID GPUs optimized for virtualized environments. The HP WS460c Gen8 server with Nvidia GRID or Multi-GPU Carrier lowers the cost per user while delivering levels of graphics performance previously unavailable for desktop virtualization users. The Nvidia GRID K1 and K2 GPU adapters also enable multiple media-rich PC or high-end graphics users per blade by providing graphics capability to each virtual machine.
The HP t820 is planned to be available worldwide in November. Pricing is available upon request. The HP WS460c Gen8 Graphics Server Blade with Nvidia GRID GPUs is planned to be available worldwide this fall. Pricing starts at just under US$9,000.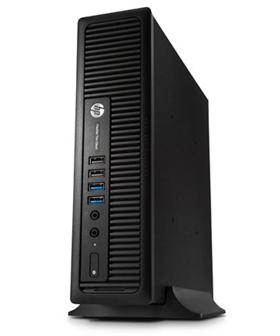 HP t820 Flexible series thin client
Photo: Company