Micro-Star International (MSI) has announced the release of the new MSI N760 Hawk graphics card, featuring a new TWIN BIOS design. For cooling, the MSI N760 HAWK is equipped with the new Twin Frozr IV Advanced, which features two 10cm Propeller Blade Technology-based fans and new Airflow Control Technology. With the Twin Frozr IV Thermal Design, it helps boost the graphics card's cooling performance, dropping temperatures by 10 degrees Celsius and noise by 12.48dB, compared to the reference design.
The graphics card also features Dust Removal Technology to extend longevity. The N760 HAWK uses Military Class IV components that have been tested and certified against the MIL-STD-810G standard by an independent laboratory.
MSI also offers its in-house overclocking tools such as the V-Check Point, which helps monitor GPU, memory and VRM voltages, and Afterburner, supporting Triple overvoltage.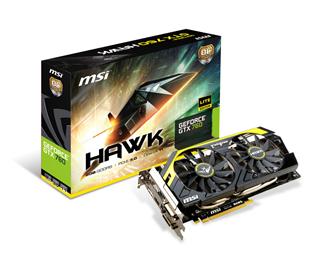 MSI N760 Hawk graphics card
Photo: Company