News regarding the demise of the PC has been greatly exaggerated. According to statistics, the majority of networked and non-networked consumer applications still run on a PC. It is important to note though, that the trend in devices features and appearance is being recasted, so quality wireless networking capability is the key to the shrinking and mobilization of the PC.
Michael Hurlston, executive vice president of worldwide sales for Broadcom, appeared while wearing Google Glasses to demonstrate the interactive applications of the next-generation device to the audience. He spoke about a 20-year PC obituary report published by CNN, while noting that from 1991-2005, PC shipments went from 23.81 million to more than 200 million units. He added that while Apple released the iPhone in 2007, PC shipments approached 300 million units in 2008.
In 2011, the death of the PC argument resurfaced. However, PC sales oddly hit a new record height of 350 million, and only slightly declined in 2012, leading to CNN and The Guardian both pointing out that the demise of PC was greatly exaggerated. However, the media continues to post the question. An April 2013 edition of USA Today indicated that PC will not die; it will only become ultra-mobile. Forbes magazine mentioned that the news regarding to the death of PC is garbage, while The Business Insider even posted the big question of "Is PC dead yet?"
Hurlston indicated that in fact, according to statistics, two-thirds of US consumers use two or more devices to surf the Internet, with the total typically being comprised of more than one PC. In addition, 53% of information workers worldwide use three or more devices at work, while 67% of online shoppers have ordered products through a PC. This indicates that the PC still plays a critical role in terms of a connection experience. Meanwhile, 87% of consumers spend at least 10 hours with digital content every day of the week. He pointed out that today's PCs are becoming lighter and slimmer as well as more efficient, and pursue longer battery life and to always stay connected. Tomorrow's PCs will incorporate human-computer interfaces and advance further with device integration to make PCs lighter, thinner, and more mobile. For example, Asus has launched Taichi, a transforming mobile Ultrabook, and other manufacturers have lunched transformable or detachable flat panel Ultrabook products as well.
High-quality wireless networking capability drives the fourth wave of PC revolution
Hurlston indicated that the first wave of PC revolution was the rise of PCs in the 1980s, the second wave of PC revolution was the development of the Internet in the 1990s, the third wave in the PC revolution was driven by wireless networking in the 2000, and the fourth wave of PC revolution was driven by the always connected capability in the 2010s that requires very high-quality connectivity.
Hurlston enumerated a number of examples for PC connection development. 5G Wi-Fi can be used to provide fast and uninterrupted connections and to connect more devices. MiraCast can be used to watch videos through wireless streaming. Touch technology can be used for better interaction. Bluetooth technology can be used to enable the Internet of Things (IoT). Finally, the Global Navigation Satellite System (GNSS) can be used to detect geographical positions and determine user locations. In terms of PC wireless connection requirements, such as anytime Cloud access, stronger wireless network connection service capacity, and longer-lasting battery life to respond to the higher transmission rates to stream high-definition videos wirelessly; 5G Wi-Fi is the only technical solution because wireless video not only requires 5G Wi-Fi uninterrupted video data connection service capabilities, it also require direct interconnection, video agreements, and cross-platform capabilities as well as application support between the devices.
5G Wi-Fi with DisplayLink/Miracast, a crossover borderless display demo
Hurlston invited Vijay, a Broadcom Technical Manager to provide an actual machine demonstration, who then unveiled two LCD monitors and a notebook that were connected with a USB 3.0 cable with DisplayLine software technology to enable three-screen horizon merge display. This heterogeneous device was connected in parallel to a big screen. Two windows were opened on the notebook; a live video feed of the exhibition center was shown, while the other window played a HD video across the two LCD monitors. The videos were all streamed wirelessly through a high-speed 5G Wi-Fi. When the notebook was moved, the position change caused the live recording video changes to instantly be reflected on the three cross-connected large displays.
Hurlston also spoke about the Miracast wireless video transmission technology developed by the Wi-Fi Alliance. Through the Wi-Fi Direct technology, data can be transmitted through Wi-Fi devices directly – without requiring a wireless sharing device. This not only simplifies settings, it can enhance transmission performance as well. Miracast with 5GWi-Fi and the near field communication (NFC) protocol can work together to provide better user experiences.
The PC is also the hub of IoT. New generation PCs can also handle numerous geographic/ location data such as navigation systems, warning systems, regional sales event information, and indoor map information. Michael Hurlston showcased an Ultrabook that integrated GNSS navigation technology with a built-in gyrometer, magnetometer/compass, and accelerometer; and uses 5G Wi-Fi technology. By providing constant 5G Wi-Fi base station coordinates and detecting the precise position of the Ultrabook, it can accurately calculate the location of the notebook within the room.
Broadcom believes that the numerous next-generation convertible/detachable devices such as Asus' Taichi dual screen transformer Ultrabook, the Transformer Prime detachable transformer flat panel/laptop, Lenovo's IdealPad, and Hewlett-Packard (HP) next-generation devices will become the new diverse development styles of the future in the PC market. 5G Wi-Fi networking technology can deliver the optimal application performance and experience to users.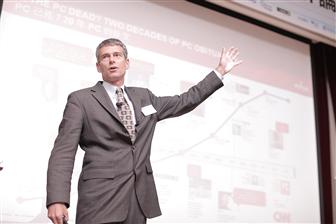 Michael Hurlston, executive VP of worldwide sales for Broadcom