Google has launched its second-generation Nexus 7 and the Chromecast, a device that can be plugged into TVs, PCs, smartphones or tablets for watching online content.
The Chromecast is priced at US$35 and works with Netflix, YouTube, Google Play Movies & TV, and Google Play Music, with more apps like Pandora coming soon.
Once Chromecast is set up, users can use their phones, tablets or notebooks to browse and cast content to their TVs, play and pause, control the volume, and more. But unlike other streaming solutions, users can still multitask – send emails or surf the web – while watching. It works across platforms – Android tablets and smartphones, iPhones, iPads, Chrome for Mac and Windows (more to come), so users' personal devices are also their remote control.
In addition to apps like Netflix, users can use Chromecast to bring a broad range of content available on the web to their big screen, thanks to a new feature in the Chrome browser that allows them to project any browser tab to their TV. From sharing family photos to enjoying a video clip from their favorite news site.
Together with Asustek Computer, Google has upgraded the original Nexus 7 with a high-resolution panel and made the device lighter. The tablet is also capable of having more than nine hours of HD video playback and 10 hours of web browsing or reading. The Nexus 7 now features stereo speakers and virtual surround sound from Fraunhofer, giving users rich and immersive audio.
The new Nexus 7 is the first device to ship with Android 4.3, the latest version of Android. In Android 4.3, Google introduced restricted profiles, which let users limit access to apps and content. For example, restricted profiles enable parental controls, so certain family members are prevented from accessing mature content. Likewise, retail stores can use tablets to show off product information, and shops can use tablets as point of sale systems. Android 4.3 also now supports Bluetooth Smart technology, opening the door to mobile apps that connect to new devices like fitness sensors. Android 4.3 is rolling out to Nexus devices starting today.
The Chromecast is now available for US$35 on Google Play plus Amazon and BestBuy's online shops. It will be available in Best Buy stores across the US starting July 28. For a limited time, users also get three months of Netflix included.
The new Nexus 7 starts at US$229, and is available in the US beginning July 30.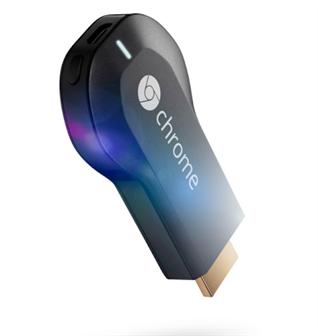 Google Chromecast TV stick
Photo: Company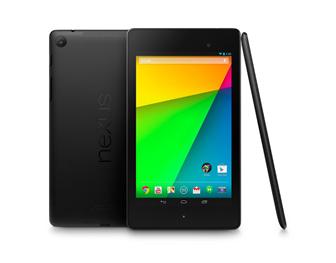 Google second-generation Nexus 7 tablet
Photo: Company