2013 Secutech, International Security Expo held from Apr. 24 -26, attracted over 520 manufacturers and professional visitors from 19 countries to Taiwan. EverFocus - an a&s 2012 Security Top 50 manufacturer - received 2013 Secutech Camera Excellence Awards with their EAN3300 - a 3 Megapixel IP Camera. With this award, the well-known CCTV manufacturer made a clear announcement to the world that they are ready for the IP battle, and once again proved their continuous hard work in IP producing is paid-off.
Earlier this year, the EverFocus EPN4220 IP speed dome received this year's Taiwan Excellence Award. Winning another IP camera Excellence Award at Secutech shows that the expansion of their product line is continuing successfully. The award proved their R&D engineers have also developed an extensive expertise in IP products.
During the contest, organized by Messe Frankfurt New Era Business Media Ltd., cameras of various brands were set up to monitor the color saturation and restoration, effective frame rate, camera shutter speed, and resolution performance. The contest also had an on-site live demo component, that not only served as a clear buyer's guide for IP Cameras but also a big encouragement for EverFocus and its business partners.
The EverFocus EAN3300 is a box-type IP camera delivering 3 Megapixel image resolution. It features WDR functionality, which can provide clear images even under back light circumstances where intensity of illumination can vary excessively. H.264/M-JPEG multi-stream output is available for simultaneous live monitoring and high-resolution recording. The EAN3300 is designed for simple installation and supports all types of indoor mounting applications.
The HD-SDI Demonstration was also a highlight of the Secutech. HD-SDI cameras and DVRs were installed to monitor banking activities in a simulated environment. EverFocus showed off their EPHD04 DVR and EQH5202, providing a total banking solution and achieved resounding success in this demonstration.
The EverFocus EPHD04 DVR supports 1920 x 1080 or 1280 x 720 resolution HDcctv cameras and offers real time HD recording and playback for all cameras at 1080p resolution. At the same time, all cameras are available for remote live display with reduced bandwidth. The built-in HDcctv DVR web server enables live display and playback of video footage without the use of specific software - a PC with web browser is all you require. Users can search video by date, time and event or filter by type of recording quickly and efficiently.
EverFocus EQH 5202 is a 2.0 Megapixel full HDcctv day/night camera with progressive scan and WDR, automatic IR cut filter which has enhanced exposure control with WDR, BLC, HSBL, and DSS.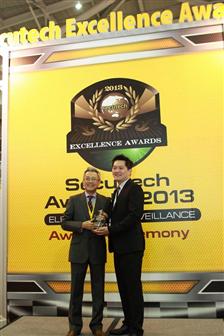 EverFocus EAN3300 wins 2013 Secutech Camera Excellence Awards
DIGITIMES' editorial team was not involved in the creation or production of this content. Companies looking to contribute commercial news or press releases are welcome to contact us.