Acer expands commercial offering with new Veriton P workstation and Altos server
Press release; Joseph Tsai, DIGITIMES
Acer has announced its entry to the professional workstation market with the Veriton P series and new Altos servers thereby expanding its commercial offering. The new workstations and servers support a wide range of computing configurations and feature Intel Xeon E3 and E5 processors, error-correcting code (ECC) memory, RAID support, and backup components.
The new Veriton P series workstations target customers ranging from small offices to large scale corporations and public organizations and pack Nvidia's professional 3D and 2D graphics cards with support across the Intel range of Xeon processors.
The new Altos line carries management tools and software including the Acer Smart Setup, Smart Console and Smart Server Manager and features such as iKVM.NET. Specific models are capable of storing up to the industry maximum of 24 hard drives and supporting numerous applications to address different usage scenarios.
Acer has also begun to test and develop a wide range of proven solutions for customers throughout the global regions, including those for thin/zero clients, cloud computing, virtualization and high-performance technical computing. Acer's commercial offering currently includes building an international-scale supercomputer with clients from the automotive and financial services industries.
The new Veriton P workstations and Altos servers will be available to customers starting the second quarter of 2013 with general availability varying by region. They will be shown at the GPU Technology Conference held from March 18-21, 2013 in San Jose, the US.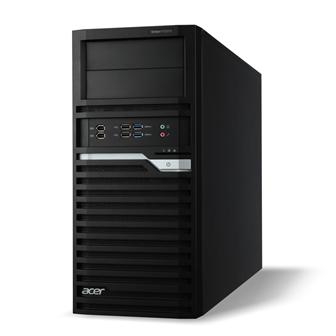 Acer Veriton P workstation
Photo: Company