Acer will showcase its family of smartphones at the Mobile World Congress (MWC) 2013 in Barcelona, targeting first-time smartphone users and customers with need of feature-rich multimedia and communication experiences.
Acer will display three new smartphones at the show - the Liquid E1, Z2 and C1. The Liquid E1 features a 4.5-inch qHD display, a dual-core processor, support for optional dual SIM cards and the latest Android 4.1 Jelly Bean operating system to allow the smartphone to handle multimedia and communication at the same time. The smartphone's Float Caller notification function also ensures that users will not be interrupted by incoming calls, which usually take over the whole screen while using apps or watching videos. The Float Caller will pop up a mini window to notify users to take calls or reply with quick messages.
The Liquid E1 also features a dual-speaker system and DTS Sound for audio and a zero shutter delay camera to capture images and snaps fast-action sequences with 4-, 8- and 16-burst shooting.
The Liquid Z2 adopts the Android Jellybean OS, which is ideal for first-time users, the vendor said. The OS learns users' habits and has a very intuitive interface with large icons. It is easy to operate and with the support of AcerCloud, users can snap pictures and share instantly on their other devices.
The Z2 features an optional 3- or 5-megapixel camera, which can be launched in just a second and offered panoramic and multi-angle modes as well as continuous shooting function with up to 99 shots. The smartphone adopts SRS Sound for audio output and offers optional dual SIM card support for added convenience.
The Liquid C1 features an Intel Atom processor for responsive touch control and quick-loading webpages. The machine has a 4.3-inch qHD display and a 400MHz graphics engine.
The three new smartphones all support AcerCloud, a file sharing and media management solution which allows users to retrieve, enjoy and share their multimedia and data files using a variety of computing devices. AcerCloud simplifies management of digital assets across digital devices, regardless of platform, and is free on new Acer products.
The Acer Liquid E1, Z2, C1 will be available starting the first quarter of 2013.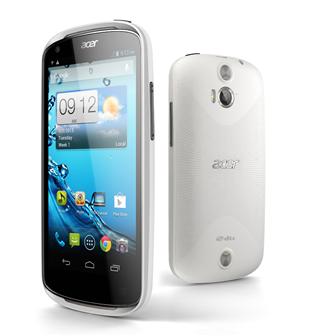 Acer Liquid E1 smartphone
Photo: Company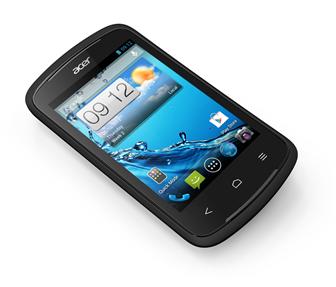 Acer Liquid Z2 smartphone
Photo: Company