The 21st Taiwan Excellence Award was unveiled, MSI was again snatched the award for 15th consecutive years for its innovation and superior quality. Commissioned by the ROC Ministry of Economic Affairs' Bureau of Foreign Trade, Taiwan Excellence Awards are organized by Taiwan External Trade Development Council (TAITRA) and conducted annually in an attempt to spotlight Taiwan's quality products as well as spur innovation and brand development.
Eleven product of the leading company are awarded covering mainboards, graphic cards, NBs, All-In-One PCs. A panel of judges, consisting of renowned IT experts, assesses products in five stages of rigorous evaluation, including R&D, Design, Quality, MIT and Marketing. The Taiwan Excellence Award affirms MSI's continued dedication to quality and consumer-driven product.
The international leading company deserves the highest honor for MIT products. Awarded product highlights: Z77 MPower, the first OC certified mainboard, GTX 680 Lightning graphic card with top gaming performance and GT70, the award-winner gaming notebook. What's more, Slidebook S20, the hybrid Ultrabook and tablet, 27" Win8 All-in-One PC. All those ingenious design products driven from MSI's striving to meet the challenge of customer engagement, MSI will shoulder the responsibility as a distinguished name with foresight and innovation.
The first OC Certified mainboard - Z77 MPower
Last August, MSI unveiled its first OC Certified mainboard - Z77 MPower, the overclocking baseline changed ever since. Gamers now no longer need to make such a fuss looking for a mainboard with long-term stability and ultimate performance. Designed specifically for gamers, Z77 MPower integrates OC essentials such as on-board handy designs, Military Glass III components and Twin Frozr IV based thermal design. Moreover, Z77 MPower features stable CPU power supply under extreme conditions by a 24-hour Prime95 stress test. In other words, MSI Z77 MPOWER promises overclockers with the best quality.
Z77 MPower also provides easy access tools: on-board power and reset buttons, V-Check Points allowing voltage monitor of key components using a multi-meter, and Multi-BIOS II ensures PC safety by switching to spare BIOS in case unexpected failure occurs.
Full boost performance with one click: GTX 680 Lightning
The All-new flagship graphics card GTX 680 Lightning (MKT Name: N680GTX Lightning) equipped with the NVIDIA GeForce GTX 680 GPU. The GTX 680 utilizes proprietary Unlocked Digital Power architecture to unleash the full performance of the graphics card without any extra modifications. The innovative patented GPU Reactor power supply back plate also reduces power supply noise and improves overclocking stability. GTX 680 Lightning embedded the Twin Frozr IV cooling solution with Dust Removal technology, dual temperature-controlled fans, and SuperPipe, providing optimal balance between thermal and acoustic.
Striking the ideal balance: Slidebook S20
Another MSI ingenious design, the Slidebook S20 features a touchscreen and convertible functionality. Not only offers all the audiovisual, multimedia, reading, and gaming enjoyment of a tablet, it also sports a keyboard and HDMI capabilities of a mobile office notebook. This chicly mobile machine satisfies the needs of both on-the-go businesspeople and students and the extended battery power ensures that you have plenty of time to do what you're doing. Ideal for Internet browsing, social networking, and word processing, the Slidebook S20 is the perfect choice for anybody on the go.
27" frameless design: WIN8 All-in-One PC 27
Striving for utmost attention for quality and innovation, MSI has released the large viewing area on the AE2712 and AE2712G using a 27-inch 1920 x 1080 full HD display, encompassing up to 10 multi-touch points and a beautiful frameless design. In order to provide the best operating experience, screen of this model introduces the all-in-one and frameless design. Users can slide freely on the surface of the screen as well as the corners which were hard-to-reach before and now the whole touch panel is more accessible than ever. Besides, this design can also prevent dust from getting caught in the nooks and edges which used to happen to traditional panels and the outer glass screen is strong enough to protect the display effectively while increase the durability of the device.
The ultimate gaming laptops: GT70
MSI's award-winning gaming notebook GT70 not only packs Intel's 3rd generation Core i7 quad core processor, but is also equipped with Nvidia's all-new flagship GeForce GTX 675M discrete graphics card. The high-end notebook racked up a record-shattering P17,000 points on 3D Mark Vantage. This cutting-edge processing platform employs 22nm production technology, enhancing processing performance over the previous generation, while saving power and optimizing cooling capabilities.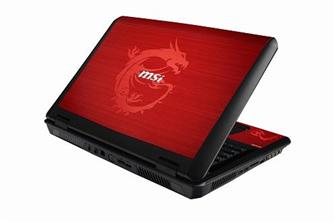 MSI GT70
DIGITIMES' editorial team was not involved in the creation or production of this content. Companies looking to contribute commercial news or press releases are welcome to contact us.