Apple has announced iPhone 5, the thinnest and lightest iPhone currently, completely redesigned to feature a 4-inch Retina display, an Apple-designed A6 chip, and ultrafast wireless technology. iPhone 5 comes with iOS 6, a mobile operating system with over 200 new features including the all new Maps app with Apple-designed cartography and turn-by-turn navigation; Facebook integration; Passbook organization; and more Siri features and languages, according to the vendor.
iPhone 5 comes with an all-new 7.6mm anodized aluminum body that is 18% thinner and 20% lighter than iPhone 4S. iPhone 5 combines an anodized aluminum body with diamond cut chamfered edges and glass inlays.
The 4-inch Retina display on iPhone 5 delivers more pixels than iPhone 4S. By making the screen taller, not wider, iPhone 5 is as easy to use with one hand so users can tap, type and scroll, while enjoying more of their content including apps optimized for the larger Retina display, and widescreen HD video, Apple said.
iPhone 5 supports ultrafast wireless standards including LTE and DC-HSDPA. To support the latest LTE technology, Apple has pioneered a single-radio LTE solution that provides fast speeds while fitting into the thin design. iPhone 5 features dual-band 802.11n Wi-Fi support for a wireless experience up to 150 Mbps.
The all-new A6 chip was designed by Apple to maximize performance and power efficiency to support all the new features in iPhone 5, including the new 4-inch Retina display.
The 8-megapixel iSight camera is completely redesigned, and is 25% smaller than the camera in iPhone 4S. The new iSight camera in iPhone 5 features a sapphire crystal lens cover that is thinner and more durable than standard glass, according to Apple. The new panorama feature lets users capture images of up to 28-megapixels by simply moving the camera across a scene in one smooth motion. New video features include improved stabilization, video face detection for up to 10 faces and the ability to take still photos during recording. A new FaceTime HD front facing camera makes FaceTime calls clear and can also be used for self portraits and recording 720p HD video. iPhone 5 also allows users to share photos with friends and family using iCloud's Shared Photo Streams.
iPhone 5 features the new Lightning connector that is smaller, smarter and more durable than the previous connector, the vendor said. The all-digital Lightning connector features an adaptive interface that uses only the signals that each accessory requires, and it's reversible so users can instantly connect to your accessories. The Lightning-to-30-pin Adapter is also available to connect iPhone 5 to legacy 30-pin accessories.
iPhone 5 introduces new enhanced audio features including a new beam-forming, directional microphone system for higher quality sound, while background noise fades away with new noise canceling technology. iPhone 5 now includes support for cellular wideband audio for crisper word clarity and more natural sounding speech. Wideband audio will be supported by over 20 carriers worldwide at launch. iPhone 5 comes with the new Apple EarPods featuring a design for a more natural fit and increased durability, according to Apple.
iPhone 5 comes in either white and silver or black and slate, and will be available in the US for a suggested retail price of US$199 for the 16GB model and US$299 for the 32GB model and US$399 for the 64GB model. iPhone 5 will be available in the US, Australia, Canada, France, Germany, Hong Kong, Japan, Singapore and the UK on Friday, September 21, and customers can pre-order their iPhone 5 beginning Friday, September 14. iPhone 4S will also be available for just US$99 and iPhone 4 will be available for free with a two-year contract.
iPhone 5 will roll out worldwide to 22 more countries on September 28, including Austria, Belgium, Czech Republic, Denmark, Estonia, Finland, Hungary, Ireland, Italy, Liechtenstein, Lithuania, Luxembourg, Netherlands, New Zealand, Norway, Poland, Portugal, Slovakia, Slovenia, Spain, Sweden and Switzerland.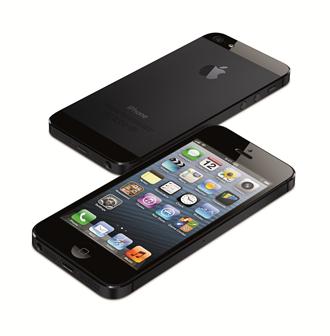 Apple iPhone 5
Photo: Company