Market trends and solutions for UMD memories
Sponsored content
In response to enthusiasm for lighter and thinner ultra-mobile devices (UMDs) like smartphones, tablet PCs and ultrabooks, memories inside these devices (DRAM, flash) have also evolved in terms of speed, interface standards and forms of packaging toward a future convergence of system software and data storage applications.
Speaking at the recent DTF 2012 Ultra Mobile & Ecosystem Forum, Kingston's director of product marketing Allen Yu said UMDs, be it smartphone, tablet or ultrabook, feature slim exterior/light weight, the "always on, always connect" function, long-life batteries and multitasking. All of these characteristics require high-performance, low-power, multi chip package (MCP) and cost-efficient memories.
Current trends in UMD memory market
Yu pointed out that most smartphones, tablets and ultrabooks adopt eMMC, eMMC/SSD and SSD/HDD for data storage, while LPDDR, LPDDR/DRAM, DRAM are used for DRAM. For hardware and platforms, most smartphones adopt ARM plus Android or the upcoming Windows on ARM (WOA), and tablets can choose among ARM plus Android, Wintel and WOA.
As for the development of memory/storage technology, the 200MB/s eMMC 4.5 will be upgraded to eMMC4.51 (still 200MB/s) with enhanced information security capability for future serialization of UFS 3Gbps (upgraded to 300MB/s). Mobile DRAM will move from 3.2 GS/s of LPDDR2 to 6.4 GS/s of LPDDR3 before ushering in 6.4GB/s from the Wide I/O interface. SSD will advance from existing SATA2 3Gbps and SATA3 6Gbps to multi lane PCIe interface design.
In terms of UMDs' storage capacity, the average capacity of NAND flash in smartphones will increase all the way from 5.5GB, 7.6GB, 10.8GB, 14.9GB, 19.7GB to 25.1GB while the worldwide number of smartphones is expected to grow from 300 million to 1.2 billion from 2010-2015. The average capacity of NAND flash in tablets will rise gradually from 30.1GB, 37.6GB, 56.8GB, 76GB to 96.1GB as the worldwide shipments of tablets are seen rising from 20 million units in 2010 to 240 million in 2015. By 2012, 450 million UMDs (including smartphones and tablets) around the world will use eMMC.
eMMC specs and technology evolution
Yu started with an introduction to eMMC (embedded MultiMediaCard), a low-cost set of data storage media specifications launched by JEDEC, which is also devoted to DRAM and NAND flash specs. By adopting multi chip FBGA package for NAND flash and MMC controller chips, eMMC can achieve the light and thin exterior required for UMDs. As its electric specs place greater emphasis on energy saving, information security and random access speed as compared to MMC/SD cards, eMMC is suitable for applications such as smartphones, tablets, digital still cameras, MP3 players, GPS, e-books, e-toys and game consoles.
Yu pointed out that in addition to light weight and thinness, cost competitiveness is the biggest consideration for wide application of NAND flash in consumer electronics products. The evolution of semiconductor manufacturing processes reduces the unit cost year by year. A new process appears nearly every year: last year's mainstream 3xnm process for NAND flash is migrating to 2xnm and even 1xnm in an evolution even faster than Moore's law. Moreover, the introduction of multi-level cell (MLC) technology is leading the cost down further. 2-bit-per cell is the mainstream now, while the even cheaper 3-bit-per-cell is already used in some applications.
Secondly, specs of each generation of NAND flash are constantly changing. The new generation of NAND flash has a higher bit error rate, larger page and block, different AC clock signals, and more new commands. Managing these new specs requires new CPUs, as conventional host CPUs cannot update each year f due to cost efficiency problems. Flash controllers are therefore used as a bridge between NAND flash and host CPUs. However, conventional host CPUs are still responsible for flash translation layer (FTL), drivers and ECC recovery despite already having flash controllers to communicate with NAND flash. By packaging MMC controllers and NAND flash into one single chip, eMMC can deal with FTL, driver and ECC by itself so that conventional host CPUs can process data directly through MMC bus and save much effort for CPUs.
Yu also mentioned that there are two types of eMMC packages defined by JEDEC, 169 ball and 153ball FBGA, and the size comes in 11.5 x 13 x 1.3 (153ball), 12 x16 x 1.4 (169ball), 12 x 18 x 1.4 (169ball) and 14 x 18 x 1.4 (169ball), with all signal pins being compatible with each other. eMMC has been capable of boot operation since v4.4, saving SRAM and NOR flash components from smartphones.
The sleep mode offers a switch between standby and sleep modes to save energy. With the reliable write feature, data can be secured even during power outage. Replay protection memory block (RPMB) offers code protection that requires passwords and keys for access. The multiple partitions function can help switch between different OS boots for different partitions and designate a specific partition for RPMB protection.
Background operations and high priority interrupt (HPI), the eMMC features that started with v4.41, help eMMC execute commands with greatest priority in order to solve NAND flash's problems for simultaneous read/write. The feature is specifically designed for smartphones.
eMMC v4.5 also feature new functions like HS200, discard, sanitize, packed commands, context IDs, power off notification, data tag and RTC. HS200 retains compatibility with eMMC's transmission speed of 26/52/104MB/s, with an additional 200MHz operating clock.
As for other additional commands, discard can help the host define invalid blocks of memory; sanitize commands can completely erase the physical blocks where the data is stored in order to avoid information outflow even after deleting personal data; packed commands can categorize to-be-executed commands according to their operating characteristics, and put them into packets for efficient batch execution in a bid to enhance overall operating efficiency of the system; data tag can tag storage data according to access and hit frequency and enhance the system's process efficiency; with power off notification, the host controller will inform the eMMC controller chip when devices are about to suffer a power outage, so that the controller chip can respond in advance before the outage.
UFS: A technology integrating eMMC and SSD
Yu pointed out that universal flash storage (UFS) has integrated eMMC's safe, low-power, and small-size packaging applications with SSD serialization high-speed interface, SCSI command format and high-performance applications. There will be UFS card products in UFS specs or eUFS memory chips that are suitable for embedded applications.
In terms of UFS frameworks, the M-PHY physical layer of Mobile Industry Processor Interface (MIPI) followed by vendors ranging from cell phone makers to supply chain suppliers has achieve backward integration with UniPro interface (CSI-3, DSI-2, UFS) as well as support and processing capability for SCSI command set that is currently available for SATA SSD only. UFS integrates all benefits of SSD and eMMC, and its specs are especially developed for high-performance UMDs. Now UFS 1.1 specs can achieve 3Gbps transmission speed, and the upcoming UFS 2.0 will go further to reach 6Gbps.
As UFS is totally different from and incompatible with existing eMMC interfaces, related supply chains are still incomplete despite UFS 1.0 was released way back in 2011. Yu forecast that eMMC will remain mainstream in the market by 2013, while UFS in engineering samples/prototypes is expected to appear by the end of 2013 before appearing in small amount in the market by 2014. As UFS is targeting the high-end market due to the cost factor, UFS and eMMC will co-exist in the market for a while.
Concluding with Kingston's roadmap for UMD memories, Yu said his company is scheduled to launch a series of comprehensive memory solutions for smartphones and tablets in 2012. For high-end smartphones and tablets, eMMC v4.5 products will be released in 2012 in capacity ranging from 4GB to 64GB before upgrading to eMMC v4.51 with 4-128GB capacity in 2013. UFS 1.1 or 2.0 products will be officially launched in 2014 with capacity ranging from 64 GB to 256 GB.
As for mid-end smartphones and tablets, since mid-end smartphones' CPUs are not suitable for package on package (PoP) and using independent eMMC chips and LPDDR chips will take up too much space, Kingston will use the MCP packaging method and provide in 2012 or 2013 chips (eMMC 4.5 + LPDDR2 MCP) where eMMC v4.5 and low-power DDR2 are packaged together. The product line, specifically designed for Android 4.0 mid-end smartphones, can simultaneously achieve cost efficiency and performance. In response to China's demand of nearly 120 million low-end, entry-level smartphones in 2012, Kingston is offering NAND+LP DDR MCP products that package NAND flash chips with low-energy DDR from 2012 to 2013. The products have been validated by major smartphone chip vendors and already start shipping in May.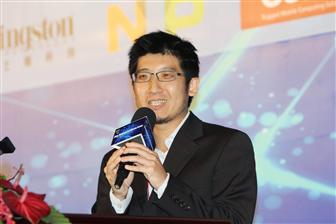 Kingston director of product marketing, Allen Yu Ph.D