Imagination, one of the world's three largest makers of multimedia and communications semiconductor intellectual property (IP) cores recently held a technology forum in Taiwan's northern city of Hsinchu on June 14 that discussed topics ranging from IP cores to the latest SoC solutions. The forum also featured technology from some of Imagination's partners, and overall attracted nearly 200 participants.
VP of sales and business development at Imagination, David McBrien, and Max Lin, director of sales, said during the introduction, that this was the first time the company held a forum of such size in Taiwan and the new event was due to the importance of the market and the number of partners there. "We want to keep investing in the Taiwan market and provide excellent service support, so that we may assist customers in developing competitive products," said McBrien.
McBrien also said, "Not only will we be introducing our latest graphics processing IP, we will also talk about video, displays, multi-threaded cores, and wireless processors. We hope that industries can further understand that Imagination is a company that provides complete SoC solutions."
David McBrien, VP of sales and business development at Imagination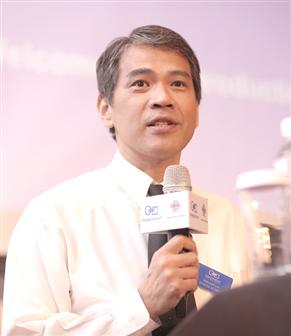 Max Lin, Director of sales at Imagination
Later in the forum, VP of marketing at Imagination, Tony King-Smith, revealed the company is continuing to expand its market strategies and prospects by building advanced SoC technology combined with a wide range of ecosystems and rich product portfolio.
Complete solutions to fulfill consumer requirements
King-Smith pointed out that Imagination was established in 1985 in Britain and has a long history as an IP provider, with licensed clients listed as the world's top-20 semiconductor and OEM players in the world. A total of 800 million shipments ranging from smartphones, tablets, digital TVs and gaming systems have built-in technology from Imagination, and it is estimated that number will increase to one billion by 2016.
Graphics processor IP is Imagination's core technology. King-Smith said that years ago the market was skeptical about on-chip GPUs, but now it is proven that this technology is widely accepted. We predict the adoption by video and on-chip multiple-standard communications solutions will grow at a rapid pace and will move towards M2M, which will bring more business opportunities for Imagination.
He also said Imagination can provide a wide range of SoC solutions, such as PowerVR for graphics, video and displays, Ensigma receivers, and Meta multi-threaded processors, along with non-SoC solutions such as HelloSoft V.VolP and VoLTE software, as well as Flow cloud computing and service IP products. This will give customers unique differentiation and most cost-efficient solutions.
King-Smith emphasized, "Imagination wants to be the building blocks for satisfying requirements in the market and we will continue to strengthen our relationship with Taiwan Semiconductor Manufacturing Company (TSMC), ensuring that licensees receive optimal speed, area and power efficiency available."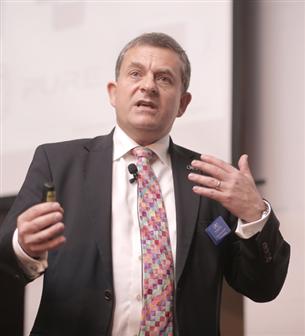 Tony King-Smith, VP of marketing at Imagination
At present, Imagination is a member of the TSMC Soft-IP Alliance Program and is working to co-optimize with TSMC to will give SoC designers the most efficient solutions available.
Touching on the current technology trends, King-Smith said that heterogeneous computing, 4K displays, connectivity and processor diversification will all be trends and new business opportunities for Imagination.
King-Smith described that GPUs have better scalability due to their parallel processing features. After there are 2-4 CPU cores within SoC, there will be complications with design its processing sequence will make it difficult to expand. In contrast, GPUs are able to have 95% linear performance growth and will not add difficulties with writing applications. In order to gain even higher efficiency, present GPUs already occupy half of the surface area of SoCs.
Hence, Tony King-Smith is optimistic about the future development of combining CPU and GPU in heterogeneous computing architecture. Imagination has also formed the HSA Foundation with AMD, ARM, MediaTek and TI to create standard APIs and tools, accelerating cross-platforms and cross-operating heterogeneous computing applications, which will all be the next set of opportunities for SoC.
Social connectivity is becoming more and more popular and smart applications are becoming more integrated with automobiles, which is increasing the amount of requirements for on-chip connectivity. Moreover, as screen sizes become larger and support higher resolutions, combining video and non-video material is becoming increasingly important, as video, displays and graphics products indeed will react to 4K resolution trends.
In terms of the availability of diverse processors, King-Smith said Android's neutral stance with its hardware architecture will give other CPU architectures more chances in the market. And, as heterogeneous computing develops, optimal design will not be necessary for CPUs. Therefore, Imagination's Meta multi-threaded processors will not be limited by problems concerning binary compatibility, and will be able to expand their market further.
King-Smith also noted that consumers aren't concerned with what kind of hardware is used in products, but rather, if the products meet their overall requirements. If a good product image is created in the minds of consumers, then they will have even more trust with the products.
In keeping in line with this notion, Imagination will be dedicated to creating complete solutions for consumers by combining performance optimization and further collaboration with TSMC along with creating new technology that will create win-win situations for both the company and its customers.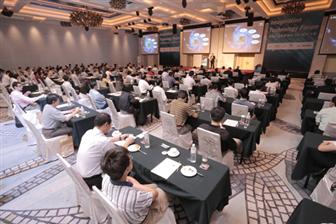 Imagination Technology Forum on June 14, 2012
Cooperation with TSMC for next-generation graphics technology
Cliff Hou, TSMC Vice President, Research and Development, said as the development of consumer electronic products continues to strengthen, users are pushing for cloud computing, which has prompted TSMC to enhance GUI.
Hou pointed out that GUI user experience is developing towards resolutions of the retina level. In addition, a 60Hz frame rate is a must. This coupled with requirements for cell phones and tablets supporting HDTV have all been important factors for enhancing graphics, added Hou.
Looking at the evolution of desktop GPU requirements, TSMC's advanced processes have been pushing GPU performance to double on a biannual basis. And the progress of mobile GPU's performance has been even faster. In 2007, the performance was less than 1 GFLOPS, but with the implementation of 28nm technology this year, the performance can now reach 12-30 GFLOPS and could reach 100-200 GFLOPS next year after migrating to 20nm next year.
However, Hou said that increasing memory bandwidth within high-performance systems is pushing up the power of chips and overall systems, which is a big design challenge.
In order to solve production challenges resulted from process scaling, TSMC has been very active in developing technologies for 3D- IC chip stacking, CoWoS and 14nm FinFET 3D transistor structure, as well as building complete ecosystems with its partners.
Hou added that a comprehensive design ecosystem needs to comprise of TSMC's design specifications, SPICE patterns, reference flows, EDA tools and IP product mixes. Only when an ecosystem is ready can TSMC help its customers adopt new process nodes. Key factors such as quality, accessibility, timeline and integration all need to be taken into consideration.
Therefore, TSMC has put efforts in establishing an OIP in the past four years that can provide complete design kits, design processes, tools, IPs as well as overall solutions and services. Through mutual trust and hard work between customers, partners and TSMC, customers are able to use reliable design solutions to develop complicated chip products as well as shorten time to market.
As industries begin to move towards 20nm, Hou said that TSMC will be able to achieve an increase of 15% in speed improvement and lower power by 32%, bringing even more value to its customers. Regarding the next generation 14nm technology, it's hoped that it can reach the goal of reducing power by 40-50% at the same speed, as well as lowering operating voltage by adopting the FinFET architecture.
However, Hou added that FinFET is a brand-new 3D architecture that needs new design specifications and that logic gate density will still be a challenge. An industry wide cooperation is needed to overcome these difficulties.
In terms of TSMC's CoWoS technology, since a higher level of system integration can be promoted, chip size and power can be decreased while at the same time increasing bandwidth and speed. Hou said CoWoS can solve issues with power usage created by high-performance systems as well.
Hou also talked about the collaboration between Imagination and TSMC, saying that TSMC will continue to validate all of Imagination's IP solutions to push its next generation GPU cores. He also said the results from the two sides' first round of cooperation will be announced at the OIP forum in October to be held by TSMC this year.
TSMC uses the most advanced production technology to further shrink GPU process and estimates every process node that uses the same power standard will be able to double its performance. With the same performance standard, the goal of using 30% less power will also be fulfilled.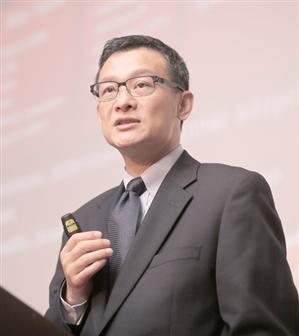 Cliff Hou, TSMC Vice President, Research and Development
Power VR graphics and video technology
Imagination PowerVR graphics products business development manager, Kristof Beets, described GPU market trends and requirements, stating optimal GUIs need higher pixel processing capabilities. Mobile devices, automobiles and other products are developing in this trend such as digital dashboards, ICT entertainment systems, rear-seat entertainment units and multiple-screen displays.
This high pixel growth rate has caused GPUs to be more important than CPUs, which can be seen from the tablet version. Beets said typical models use an A9/1GHz CPU, but the GPUs are moving from a dual-core version to a quad-core one, which doubles performance.
According to reports, Imagination's PowerVR Graphic has a 79% market share in the mobile embedded graphics market. Beets said PowerVR's graphics architecture that is supported by DX9, OpenCL and Renderscript can provide excellent results for Windows 8, Windows Phone and Android.
PowerVR SGX products use a flexible programmable architecture and have unique deferred pixel shading technology, which only draws visible parts, hence providing the highest performance per watt. More so, the next generation PowerVR Rogue products use the next generation Tile-based deferred shading and non-parameter/frame buffer technology, which will bring their performance to a new level.
Regarding video applications, Imagination's business development manager, Chris Longstaff, said action streaming, 4K displays, OLED, wireless displays, OTT, smart TVs and HEVC will all bring both new business opportunities and challenges.
Using the newest kind of HEVC as an example, it is predicted that as of next year when it is formally released that it will create new applications and markets. But since it needs high-performance solutions, low risk and a reduced time to market, this will bring industries a major challenge.
Although HEVC won't replace H.264 in the short term, Imagination will provide low-risk and low-cost HEVC encoder and decoder programs as early as possible next year.
Longstaff pointed out that 3D video hasn't appealed to consumers as much as predicted, which the 4K video market is taking advantage of. But he did emphasize that video standards means standardization of products. Imagination's 4K solutions will provide differentiating features with power, performance and functionality as well as fulfilling high-performance compression requirements.
At present there are already customers using PowerVR video products to develop TV/set-top boxes and household video transmission products. In terms of low power play-back applications, mobile devices need long play-back time and low system costs. Imagination is the only company that can provide 4K 60Fps video solutions, and is optimistic PowerVR video will be another success following PowerVR graphics. In fact, Intel's new Medfield processors emphasize HD functions and uses Imagination's PowerVR video technology.
In addition, consumers also have increasing requirements for color depth, which has moved to 10 bits from 8 bits indicating that screens need to display one billion colors. PowerVR D4500MP and E4500MP fulfill these requirements and support 4:4:4 and 4:2:2 color resolution, which is able to increase color resolution 1-3 times more for wireless displays and graphics coding.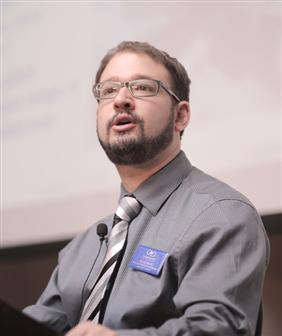 Kristof Beets, PowerVR graphics products business development manager at Imagination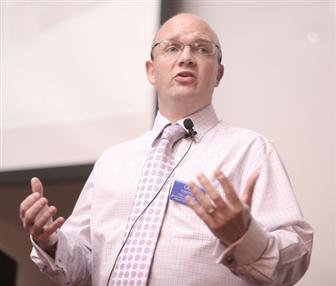 Chris Longstaff, PowerVR video & display products business development manager at Imagination
Ensigma RPU: Next-generation multi-standard wireless processing technology
Ensigma is Imagination's on-chip RPU solution that can support a wide range of global connectivity and radio receiver standards.
Ensigma's business development director, Simon Hambly, said graphics, video and memory has integrated into the SoC trend and in the future, communications technology will be embedded into SoC design as well.
He explained the TV market is already evolving into first generation digital and second generation high-definition digital standards and is set to use third generation of global integrated standards.
Different terrestrial, cable and satellite broadcasting technology coupled with market protection have caused current differentiating standards in the TV market. In the past, industries have developed different demodulators for different standards but in the future will develop in a more integrated manner.
Imagination has already been developing a multi-standard baseband for more than 10 years. Hambly said demodulators will significantly benefit both embedded and shared memory resources in the SoC, which will help OEMs lower system costs.
Within the Ensigma UCCP IP platform is a digital TV receptor, connector, digital and FM radio receiver along with functions such as mobile TV receivers, all of which can be expanded to support multi-channel operations and MIMO.
Hambly added that as future SoC needs to support multiple TV standards, RPU will be integrated within SoC, causing high-performance multi-cores to replace individual hardwired cores.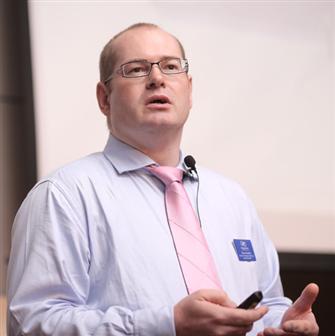 Simon Hambly, Ensigma's business development director at Imagination
HelloSoft software IP
HelloSoft's Business development director, Prabir Mohanty, meanwhile introduced HelloSoft V. VolP and VoLTE, the only cross-platform carrier-class software IP solution in the market that supports 4G.
He quoted a market report that said according to statistics, annual LTE device shipments will reach 300 million units by 2016 with the number of LTE subscribers rising to 600 million during the same time. As telecommunication industries begin to use VoLTE technology more, mobile VolP applications will take advantage as well.
To react to this growing market trend, Mohanty added that opportunities and challenges for industries both lie in a single integrated terminal device that can serve multiple platform requirements. This is because users have different systems, connecting technology such as LTE, 3G, Wi-Fi and WiMAX, along with different devices to perform telephone operations.
HelloSoft can provide a single integrated dialer and brings seamless user experience to any platform and device. This is a multi-platform, multi-operating system VoIP/VoLTE/RCS base that has accelerated video capabilities.
Mohanty pointed out that at present, HelloSoft has already been adopted by 200 devices, including smartphones, Wi-Fi mobile phones and IP phones. Companies such as T-Mobile and Orange have already started using the solution and have been conducting testing and making deployment.
Moreover, because handheld devices are used in different settings, HelloSoft can ensure that telephone calls will not be cut off during handoff from any network to any other.
Mohanty added that Imagination can provide IP communications software such as VoWiFi, VoWiFi+VoLTE, along with VoWiFi+VoLTE +VCC+IMS/RCS. He also said HelloSoftVoLTE has already optimized its design concerning performance, power and lagging. It is not only much better than circuit-switched voice performance, but also three times more efficient than the widely popular Skype in handling packet loss.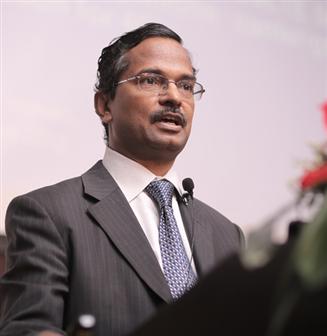 Prabir Mohanty, HelloSoft's business development director at Imagination
Meta multi-threaded processors
The next product that was introduced was the multi-threaded Meta 32 general purpose RISC processor core that has a DSP. Meta business development manager, Paul Evans, quoted IDC statistics saying that as of 2014, embedded systems and other mainstream systems will have a total of eight billion shipments, which means increased connectivity and computing requirements.
However, designers now have to face two kinds of design requirements, which are to lower energy usage and increase efficiency. Latency is also another challenge because it will significantly reduce system performance and waste system power.
Evans said some of the solutions include increasing clock frequency and additional L2 cache along with using dual-core or quad-core design.
But he said in order to effectively solve these challenges, different concepts should be used to design CPU, such as: switching one's pursuit from the highest theoretical DIMPS to the highest system performance; from the lowest CPU power to the lowest system power; and from homogeneous computing architecture to heterogeneous architecture.
In order to have more efficiency with system resources, Evans pointed out that if Meta's simultaneous multi-threading technology can increase its active cycle, then it will be able to enhance system performance.
Meta processors can support four virtual processors within a single core, which means multiple operating systems can simultaneously be run and provide three times the amount of processing capabilities. This is the CPU with the highest latency that is acceptable in the industry and can fulfill present embedded system requirements.
Also, aside from reacting to CPU challenges, terminal devices are moving towards connectivity and cloud computing. This has caused Imagination to keep using Flow technology, which is a "device to cloud" platform that can provide API and portal information to quicken the development of connectivity products.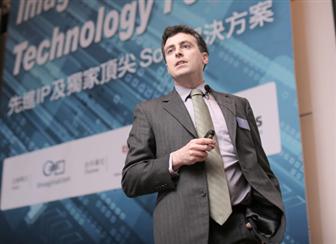 Paul Evans, Meta's business development Manager at Imagination
In the end, McBrien concluded that Imagination is not only an IP provider that fulfills anything from low-end to high-end graphics IP requirements, it also provides video, display, wireless processor and processor core solutions for consumers and is looking to boost product quality and sales through cooperation with TSMC.
Looking at growth possibilities in Asia, Imagination already possesses a good foothold in Japan and South Korea and is now looking more at the Taiwan and China markets. McBrien added that Imagination possesses advanced SoC solutions and is dedicated to helping licensees achieve differentiated product features through cooperation with TSMC.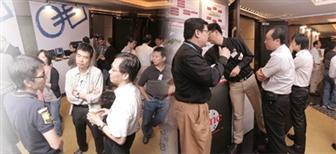 Imagination Technology Forum on June 14, 2012