Smart devices have been showing significant growth in recent years and the sales of smart devices such as Android phones, iPhone and iPad have continued to break records. With that as the current market phenomena, iaSolution Inc., GAIA Holdings' global operations arm, announced today that they will be presenting the Bluetooth connectivity solution developed by its subsidiary, Zeemote Technology Inc., at COMPUTEX 2012. This solution enables all kinds of electronic devices to easily connect with smart phones and thus become "smart" with your smart devices. All kinds of conceptual demos are available at iaSolution's booth for visitors to try out.
GAIA Holdings' efforts in the M2M wireless device market started in 2009. With the integration of Bluetooth technologies and over 10 years of experiences in the development of mobile software within their group companies, they have previously announced JS1, world's first Bluetooth joystick that connects with smart devices. Following that, Zeemote is now announcing JM1 this year, which is a total Bluetooth solution that enables your home and office equipments to easily connect and interact with smart devices. With JM1, you can use your mobile phone or tablet to control the air-conditioning or conferencing systems, or even command electronic toys and home appliances such as the coffee machine. Apart from that, JM1 not only allows you to play games with your exercise machine, it could also collect your exercising data and synchronize with your smart device at real-time, so you can manage and access your health related data anywhere at any time. The devices embedded with the JM1 Bluetooth solution could form a sensor network to detect consumer needs, which allows the manufacturers or service providers to proactively propose customized products and services, and realize a truly smart and connected lifestyle.
Zeemote also provides a complete SDK, so that app and game developers could readily develop apps for Android and iOS platforms. With this tool chain, the development of apps for various kinds of smart devices has never been easier. Without expensive investment in resources, manufacturers and software developers could create interactive UI and apps customized to the products' characteristics within minimal time. With Zeemote's SDK, app developers are no longer bounded to virtual canvas, and various manufacturers and developers are now able to unleash their creativity without limitations, and design new generation of app-ready peripherals and gadgets greatly leveraging smart phone experience. This not only differentiates your products from the rest, it also creates added values of the new apps generation.
Zeemote's exhibiting information:
COMPUTEX 2012
2012/6/5-6/9
TWTC Exhibition Hall 1
Booth No.: A0417a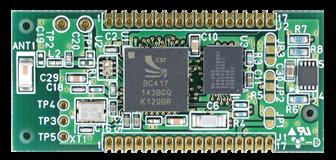 Zeemote JM3