The pioneer for the integration of GPS and video technology: Aptostech invites you to experience the GPS vehicle electronic device at Computex 2011
Press release
The research and develop team of Aptostech will exhibit a full range of GPS Driving Recorder integrated from single-len camera to multiple-lens camera, in Computex 2011. The team will show a smart monitoring system that is able to provide customers with a great choice for driving safety.
The unique solution is designed by Aptostech in order to provide consumers a deeper experience and in every aspect of the product is to show fusion of high-tech ingenuity.
Aptostech will show you the world's smallest GPS technology on driving recorder. Compact, professional design, and versatility; this driving recorder can be installed in cars; traveling blog is also available for cyclists. Real, detailed image, record the sweetest moments in life.
Records of professional automotive products, is a combination of GPS, 3G and security elements, in addition to the real image record, the professional security considerations, including real time image feedback and traffic analysis, data confidentiality, real-time video recording are all designed for professionals.
Aptostech has developed a series of intelligent physiological monitoring system, including the DWS, LDWS, FCWS so as to enhance safety of drivers.
In addition to driving recorder, you can see how Aptos combine smart phones with real-time monitoring of the tracker at the booth.
Aptostech aims at perfecting in every aspect in order to provide our customers a great variety of choices.
Aptostech COMPUTEX booth: Hall 1, C218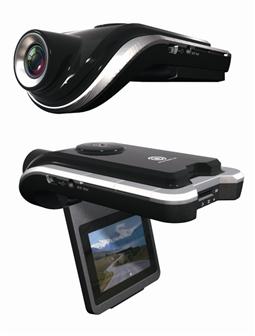 Aptostech GPS driving recorders
Photo: Company