In addition to exhibiting a full line of motherboards and notebooks at Computex, MSI is featuring a gaming pavilion at its Computex booth (TWTC Nangang Exhibition Hall 4F, Booth L607) to spotlight its newly launched products for hardcore gamers. Related products include the fierce G series gaming laptops (GT780, GT683, and GE620); C Series multimedia machines (CX480, CX640, and CX670); F Series performance notebooks (FX620DX and FX420); and finally, the company's fastest and lightest machines ever, its new (X460 and X370) notebook computers.
The company has also actively set its sights on the business and specialty markets by introducing an All-in-One PC (AP2011) aimed at enterprises seeking high performance devices. MSI's booth will also feature a special area to highlight its much talked about WindPad tablet computers and the Funrobot iCleaner robot vacuum.
World-renowned fashion innovator Jeremy Scott, who helped design for style icon Lady Gaga, has paired up with MSI to produce an exclusive series of tablets that will be revealed at the show. A new Funrobot iCleaner model (M800) will also be introduced featuring ultrasonic anti-collision technology and intelligent operation capabilities.
Z68 mainboards and world's most powerful graphics card
As a world-leader in mainboard and graphics cards, MSI is introducing its latest Intel Z68 series mainboards featuring Military Class II components and its exclusive OC Genie II intelligent overclocking technology. The company's booth will feature a display wall with its flagship Lightning series, and MSI will introduce the world's most powerful graphics card, the N580GTX Lightning Xtreme Edition with unique MSI features such as Power 4 architecture and Twin Frozr III dual-fan cooling with innovative Propeller Blade technology. The company will also highlight its technologies including its overclocking software Afterburner that supports triple over-voltage, advanced fan speed control, and 5 overclocking profiles. MSI will also reveal several innovative new technologies at the show in line with its commitment to satisfy gamer needs.
Four powerful laptop series
Combining new technologies from partners Intel, AMD, and Nvidia, MSI developed its GT780 combat gaming machine, the fastest laptop on the planet, according to MSI.
The company has also added to its four key laptop series: The next generation G Series gaming laptops all feature second generation Intel Core i7 quad core processors. The GT780 and GT683 also have a maximum of 16GB of DDR3 memory, along with next generation Nvidia discrete graphics, and will debut on Computex. The devices will also feature Dynaudio and THX TruStudio Pro smart wrap around sound as well as full HD high resolution screens. In addition, MSI worked with gaming equipment leader SteelSeries to create a specialized gaming keyboard for the GT780. Not only more durable, the keyboard was designed specifically with gamer needs in mind.
Touch screen LED All-in-One PC
MSI is rolling out its brand new array of true-color, energy efficient, AIO PC's, with the AE series for home users and the AP series for business users.
MSI said it is the first to introduce an AIO computer with an LED backlit display (Wind Top AE2211 and AE2230) and the device also features sensitive multipoint touch control and full HD 1920x1080p.
Recognizing that people today use their computers for longer and longer periods of time, MSI's business Wind Top AP2011 design utilizes a 20-inch anti-glare backlit LED monitor. Not only does it increase resolution, but also reduces eye strain to protect users' vision. MSI's LED panels use 30% less energy than traditional CCFL panels. The energy efficient technology can also extend the life of the monitor, protecting the environment in two ways.
MSI includes "Smart for Life" (Smart Media Link & Smart Sync) software allows users to share multimedia entertainment over the Internet with the touch of a finger. The MSI AIO AE2410 and AE2070 models come with second generation Intel CoreM i3/i5, while AE2230 boasts AMD's latest Sabine platform. MSI's exclusive Wind Touch 4 user interface software combines social network capabilities with web browsing.
WindPad tablet puts power and style at your fingertips
MSI has launched its new generation WindPad tablet computers that feature powerful energy-efficient processors and a complete array of I/O ports to connect to computers and A/V devices at home and at work. To bring a bit of glamour to the segment, MSI has called upon world-renowned fashion innovator Jeremy Scott who designed for style icons Madonna and Lady Gaga, and introduced his own line for Adidas. His most recent collaboration has brought him into new high-tech territory, to design a series of WindPad tablets for MSI. The WindPad 100W features the AMD Brazos processor platform, while the WindPad 100A features the ARM Cortex-A9. The former runs Windows 7 while the latter runs the newest version of the Google Android operating system.
Creating a new standard for network performance and safety
MSI will present its newest Intel Sandy Bridge DT and AMD Lisbon Server platforms. In order to meet the needs of business users, MSI not only made its best efforts into server research and development, but also has performed in-depth study of network security system architecture innovation. Besides displaying general purpose servers, the company will have more network appliance products in this event as well. MSI provides total server/network appliance solutions to meet any network challenge and continues to diversify its server product lines.
Funrobot next generation robot vacuum - iCleaner M800
MSI's Funrobot brand will see a new generation of home-use robot vacuums introduced, the iCleaner M800. Featuring intelligent capabilities while being simple to operate, the iCleaner M800 also has a stylish color scheme and sleek exterior. The iCleaner M800 features a total of six ultrasonic anti-collision sensors that reduces furniture collisions by 90%. According to scientific and clinical studies, the ultrasonic waves emitted by the M800 inhibit the growth of allergy-causing dust mites. In addition, this robot will automatically return to its charging dock when running low on power and includes programmable cleaning times, anti-tangling, and anti-fall features. The iCleaner M800's high-capacity lithium-ion battery can fully recharge and be ready to get back to cleaning in just two hours.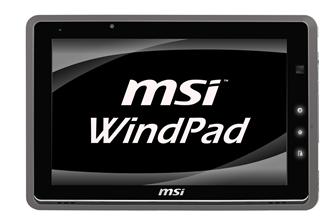 MSI WindPad
Photo: Company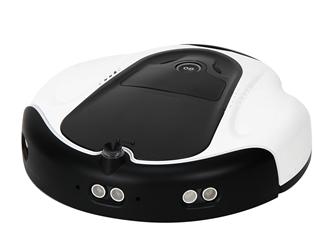 MSI iCleaner
Photo: Company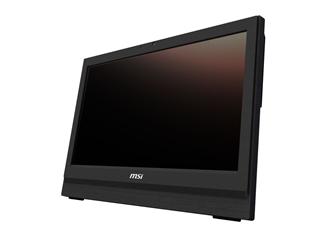 MSI AP2011 all-in-one PC
Photo: Company