Computex 2011: Fintek to showcase USB charging solutions
Press release
Along with the significant amount of sales for portable devices such as smartphones, tablet PCs, fast-speed charging via USB port requirement is more and more critical now. So Fintek has launched a series of products, the F75200 / F75201 and F75202 (F7520X), to meet this kind of charging requirement recently. These devices support most of the USB charging specifications all around the world. The F7520X are all compliant with the USB Battery Charging Specification Revision 1.2, China YD/T 1591-2009 standard, and also compliant with all Apple portable devices charging standard. These devices allow the handheld devices to charge via the USB port even the host (computer) is in the Sleep or Power Off mode.
Featuring the digital input mode selection pin, the F7520X series could change between the transmission and auto detect charger modes. In addition, the built-in charger identification circuit allows the F7520X series to automatically detect and identify the plugged-in portable devices correctly for drawing the accurate and sufficient current.
The F7520X series operate at a temperature range from 0 degrees C to +70 degrees C, with low power consumption of 1.6mW and available in 8-pin MSOP/SOT23 package. With the suitable application circuit these devices could support ErP compliance features too. These devices have enhanced electrostatic discharge (ESD) protection on the DP and DM inputs for the hot plug application. The F7520X series are best suited for PC, all-in-one (AIO) and notebook in vehicle charging, USB wall adapter, mobile power supply, docking station and other charging accessories.
Fintek is planning to launch an enhanced product featuring a power switch by the end of 2011. That device could save the power switch cost and support "charge everywhere" application.
Please visit the link for more detail information: http://www.fintek.com.tw/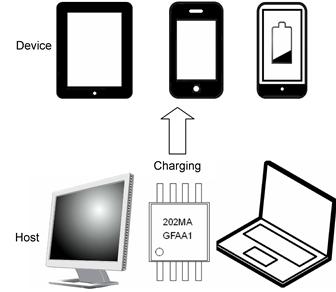 Fintek to exhibit USB charging solutions at Computex 2011
Photo: Company