Nvidia has announced the immediate availability of the Nvidia NVS 300 business graphics solution, a graphics processor designed for the enterprise that delivers visual fidelity across up to eight displays while consuming minimal power.
With nearly 25% more efficient power utilization, the NVS 300 graphics processor is designed for mission-critical applications ranging from command and control centers, to securities trading floors, to digital signage installations, Nvidia noted.
The NVS 300 graphics processor simplifies IT administration, offering the most versatile display connectivity available in a low-profile, space saving graphics card design. Regardless of the display type (LCD, DLP or plasma) or system type (standard tower PC, workstation or small form factor system), the NVS 300 delivers excellent image quality, supporting VGA, DVI, DisplayPort and HDMI at resolutions as high as 2560 by 1600, Nvidia said.
With built-in, new Nvidia Mosaic technology, and Nvidia nView Desktop Management Software that support single or multi-display environments, the NVS 300 graphics processor improves user productivity by enabling efficient management of the Windows desktop across multiple displays. Nvidia Mosaic technology provides seamless taskbar spanning, as well as transparent scaling of any application across up to eight displays. Nvidia Mosaic technology can be used to enable one or more NVS 300 cards to drive either many independent displays simultaneously, or one ultra-high resolution display.
The Nvidia NVS 300, priced at US$149, is available in PCI Express x16 and x1 configurations from major business PC and workstation vendors, and from authorized distribution partners including: PNY Technologies in the Americas and Europe, ELSA in Japan, and Leadtek in Asia Pacific.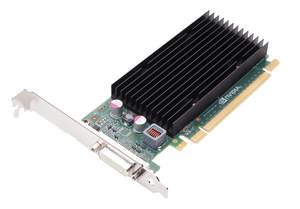 Nvidia NVS 300 business graphics card
Photo: Company