Up until recently, motion sensors have been used mainly in automotive and specialized industrial applications. However, new applications and broader market opportunities for motion sensors have emerged since 2006 when the devices were first utilized in the Nintendo Wii console. The market for motion sensors has now grown to include a much broader set of applications including sporting equipment, home appliances, industrial solutions, security monitoring systems, medical rehabilitation and clinical devices.
A forum, "2010 Motion Sensing Technology," was organized by Digitimes and sponsored by Epson on September 16, 2010 to discuss the growing market for motion sensors and their new applications. Industry experts and academic researchers were invited to present their views of the market and technology trends at the forum, which took place at Grand Victoria Hotel in Taipei.
There are many types of motion sensors available in the market, mostly used to detect changes in external conditions. In terms of detection technology and applications, they can be divided into inertia sensors, optical sensors, environmental sensors, pressure sensors, and so forth.
Inertia components consisting accelerometers and gyro sensors are an essential part of the three major game consoles on the market. Accelerometers measure 3D acceleration, while gyro sensors detect changes in altitude by measuring angular velocity. The latter has been applied to smartphones and consumer electronics requiring hard drive protection and image stabilization system, reaching beyond their traditional focus on automotive and military applications. Now many companies have begun to adopt inertia sensors for activity monitoring in medical and sports devices, inertial navigation systems and others.
Apple's iPhone, for instance, is equipped with a considerable number of motion sensors including inertia sensors, pressure sensors, as well as optical sensors, such as distance sensors and image sensors, commented Digitimes Research analyst Age Yeh. Consumers are allowed to experience physical motion-based gaming through the iPhone, which breaks traditional restrictions on mobile phones and provides a new user experience.
The decline in prices for inertia sensors has not only pointed to a new direction for developing game consoles, but also enabled the development of other applications such as motion sensing systems for sports training, inertial navigation systems and remote healthcare monitoring solutions. For example, golf training equipment with built-in sensors can collect data concerning athletes' motions. Arm, wrist and body movements are captured, along with heartbeat/pulse rates and blood glucose levels, and these data can serve as references for designing training programs and diets.
Broader applications for motion sensors especially in sport market
With stressful routines in the office and at home, most people do not exercise regularly. Many studies have noted that moderate exercise can help reduce the risk of diseases and further save money on health care and medical expenses. But people in Taiwan still do not have enough exercise or outdoor activities, as the country's educational system emphasizes more on academic performances than on sports and physical activities, and the island is densely populated.
Taiwan's leisure and health market has a size of NT$60 billion (US$2 billion), and a wide variety of fitness and sports centers can be found. The number of members working out at these fitness and sports centers in Taiwan has reached 450,000. When compared to the proportion of the US population that exercise regularly, Taiwan's health and leisure market has potentials to climb over 10 times. The integration of motion sensors into sports training equipment is likely to encourage more people in Taiwan to exercise, introducing a "Blue Ocean" to the market.
Tony Chang, secretary-general of the Taiwan Healthy Sports Alliance, believes that a lack of proper exercise, coupled with bad eating habits, has increased the chances of people contracting chronic diseases in Taiwan. Heart diseases and diabetes are now the country's biggest killers. In 2009, Taiwan's total medical expenses exceeded NT$788.5 billion (US$ 25 billion), equivalent to almost half of the country's tax revenues.
In recent years, the Taiwan government has been active in monitoring and supporting the development of the country's sports services industry with stimulus packages and incentives. The Council for Economic Planning and Development (CEPD) has unveiled plans to invest a total of NT$11.6 billion (US$370 million) in building 50 national sports centers over the next three years, and setting up 15,000 sports clubs nationwide.
A project, "AGOSS Minigym," submitted by AGOSS Health Business that aims at developing simple but efficient and time-saving exercises to provide an excellent full body workout, has won a subsidy package from the Assist Service Sector Technology Development (ASSTD) program under Taiwan's Ministry of Economic Affairs (MOEA). The AGOSS project model is based on the circuit-training concept raised by two professors in Britain.
For instance, 20 people in an 18-square-meter room are able to exercise simultaneously and achieve adequate and effective workouts during a 30-minute session. With sensor-based training devices and equipment, members' physical conditions can be kept track of for their personalized health profile reports.
Fifteen years ago when motion sensors were still costly, they were specifically used in sports training. Take a 3-axis accelerometer for example, the price 15 years ago was as high as more than NT$120,000 (US$3,870). Only well-funded training units could afford such a device that featured only basic functions. At the end of 2006 when Nintendo's Wii console hit store shelves and ushered in a new era of gaming, the market for motion-sensing applications and solutions also started to shift from a niche segment to the mass market. Extensive adoption has also allowed prices for inertia sensors, a key component featured in consumer games console, to drop substantially.
Launched in 2009, Nintendo's MotionPlus add-on sensor has taken the motion-sensing control of the Wii console to a new level of precision, sensing game players' movements with greater sensitivity and accuracy. The addition of the multi-axis gyroscope solution to the Wii MotionPlus can track a player's arm position and orientation. The motion sensors have changed the games console market, and there are also more sports equipment using motion sensors to facilitate workouts.
Mars Chen, a professor at the Graduate Institute of Sport Science at National Taiwan Sports University, pointed out that sports equipment with built-in motion sensors help consumers customize their own exercise programs, and even monitor their physical conditions, such as heartbeat rate changes, postures and movements, during training. That helps avoid sports injuries and accidents, Chen said.
Improper postures lead to improper movements, which could cause injuries, as well as muscle or joint problems. Tennis elbow, for example, is a common cause of elbow pains for tennis players with incorrect postures. Video cameras that have motion-sensing capabilities can identify the differences between players' postures and proper ones, acting as a virtual coach to help avoid unnecessary injuries and improve players' physical fitness.
Inertia sensor combined with 3D sensing technology to create new era of sports entertainment technology
Nintendo's Wii has not only introduced a new trend in the gaming market, but also advanced human-computer interaction technology. In 2010, Microsoft and Sony both introduced new games consoles that combine inertia sensors with 3D-sensing technology.
According to a statistical report, the sports game market generated US$6.4 billion in value in 2008, with annual growth of more than 10% projected in the future. Results from a clinical trial also show that the use of motion sensors in sophisticated equipment for medical and diagnostic tests has made significant contributions to the diagnosis and treatment of cancer, asthma and diabetes.
Kevin Lin, deputy director of the Human Computer Interaction Technology Center at ITRI South, commented that governments worldwide are now actively involved in promoting health and fitness through sports games to encourage their citizens to do exercise and ultimately cut their health care costs.
Major games console suppliers have been aggressively developing products designed to assist exercise programs and fitness training through the presence of virtual coaches. Under the guidance of virtual coaches, consumers are able to correct poor postures and meet their desired outcomes.
The main purpose of incorporating motion sensors is to collect and analyze individual motion and physiological data, according to Spencer Wang, general manager of Epson Taiwan's Components Business Group. Motion sensor-based sports equipment can customize parameters that affect performance, and therefore assist users in monitoring their health.
Due to environmental and health concerns, cycling is becoming a global trend for exercising. In many cities, people are encouraged to use bicycles as their main form of transportation. In recent years, Taiwan's bicycle industry has kept setting records in export values, with the ASP of Taiwan-made bicycles exceeding US$290 - almost seven times the ASP of China-made ones. However, the development of Taiwan's bicycle industry still has its bottleneck in terms of patents and development of key components.
Taiwan-based bicycle manufacturers focus more on the mid tier of the market, and have difficulties in tapping the high-end segment. Jason Chen, R&D chief of the Cycling & Health Industry R&D Center (CHC), suggested that Taiwan players in the bicycle industry consider bringing the motion-sensing technology to their next-generation products. Such an approach could allow them to continue leading the worldwide bicycle market without worrying about shortages of key components and price wars waged by competitors.
Joanne Chien, a senior analyst and director at Digitimes Research, stated that in the global fitness equipment manufacturing industry, Taiwan has already grabbed a fair share of the pie. However, domestic suppliers should consider bringing significant added-value to their traditional fitness equipment in order to move toward sustainability, Chien said. Combining emerging motion-sensing technology, the Taiwan fitness equipment sector could head for another boom, Chien believes.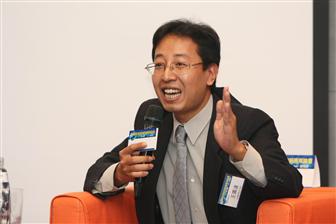 Spencer Wang, general manager of Epson Taiwan's Components Business Group, at the 2010 Motion Sensing Technology forum
Photo: Digitimes, September 2010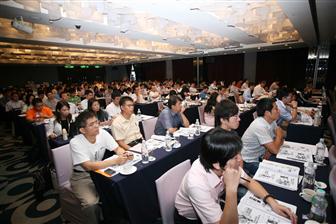 Almost 200 participants from the industrial, academic and research sectors at the forum
Photo: Digitimes, September 2010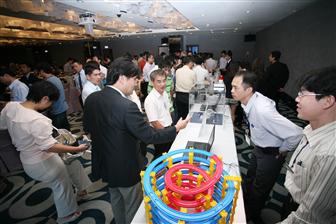 Epson's demo of motion sensor-based products at the forum
Photo: Digitimes, September 2010